Event Details
Date
May 9, 2017
Time
4:30 pm - 6:00 pm
Location
Airy Acres Vineyard
8011 Footes Corners Road
Interlaken, NY 14847
Host
Finger Lakes Grape Program
Tailgate Meeting
May 9, 2017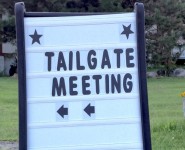 These meetings are held every other week at various grape farms around the Finger Lakes, and are intended to be informal, small-group meetings where FLGP staff and growers can ask questions and discuss issues about vineyard management, IPM strategies or other topics appropriate for that point in the growing season. 0.75 pesticide recertification credits will be available for attending each meeting.
Upcoming Events
EnoCert 203: Winery Safety and Sanitation
September 30 - November 30, 2017

Winery Safety and Sanitation is intended for all cellar personnel. Safety and sanitation are often overlooked in winemaking courses, but are essential to the production of high quality-and more importantly, LEGAL-wines. In this digital learning course, participants will learn to identify and address safety hazards, the role of OSHA and other regulatory bodies, the principles behind a safe and effective sanitation strategy, and common areas of contamination in a winery setting.

Announcements
SAVE THE DATE!!
2018 B.E.V. NY Conference and Trade Show
Wednesday, February 28 - Friday, March 2, 2018
RIT Inn & Conference Center
Henrietta, NY
Program and trade show information will become available over the next several weeks. Make your plans now to attend this important event!
Finger Lakes Grape Program - Cornell Cooperative Extension
Your Trusted Source for Research-Based Knowledge