Enrollment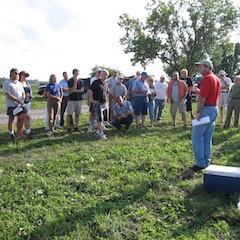 We invite you to enroll in the Finger Lakes Grape Program in 2018. When you enroll in the FLGP, you have a direct link to the latest information from Cornell and other resources around the country on topics that are important to you as a grape grower including pest management, vineyard nutrition, crop management, and farm business and marketing. The Finger Lakes Grape Program is committed to providing you with important and timely information through a variety of means to help you produce the best crop possible, as efficiently as possible.

With your enrollment, you receive:

The Finger Lakes Vineyard Update email messages,

Veraison to Harvest Newsletter

Vineyard consultations with FLGP viticulture staff

Important announcements about upcoming meetings and workshops.
You can also purchase copies of the 2018 New York and Pennsylvania Pest Management Guidelines for Grapes with your enrollment. Stated costs include postage.
The Grape IPM Guidelines will again be available online in 2018, but there is a cost to access them.
If you are interested in purchasing online access to the Guidelines, you can do so through the Cornell Store. Click this link to go to the ordering page. You can purchase both a hard copy and online access at a discounted rate for each.

The enrollment fee for residents of Ontario, Seneca, Schuyler, Steuben, and Yates Counties is $75. The fee for those from other New York counties or other states is $130.
Grape growers in Wayne County should contact the CCE Association office at 315-331-8415 for enrollment information.
FLGP Enrollment Form (PDF; 628KB)
Upcoming Events
Impact of Fruit Zone Sunlight Exposure on Fruit Composition of Cold Climate Hybrid Grapes WEBINAR
January 17, 2019
1 pm
Dr. Atucha's research program focuses on fruit crop physiology and production of deciduous fruit crops (cranberries and cold climate grapes). The goal of her extension program is to deliver up to date, research-based information to fruit growers that will lead to improve production practices of fruit crops in Wisconsin.

Announcements
B.E.V. NY Exhibitor Registration
B.E.V. NY is New York's annual conference for the grape and wine industry, combining the resources of Cornell's Extension Enology Lab, the Finger Lakes Grape Program, and the Charles H. Dyson School of Applied Economics and Management. More than 400 people attend B.E.V. NY each year to hear the latest information about marketing, winemaking and grape growing from academic and industry experts. If you want to reach the growers, winemakers and business leaders in the dynamic and expanding grape and wine industry of the Finger Lakes and New York, there is no better place to be than at B.E.V. NY!
Exhibitors can register for the Trade Show during one, two, or all three days of the conference. This gives you the opportunity to target the kind of attendees that you would like to reach during the event. Want to talk to tasting room or marketing staff about your company's new service? Wednesday's business-focused program is where you'll want to be. Are you primarily interested in talking to winemakers? Then be sure to be there during Thursday's enology program. Friday is all about vineyards so if you want to talk to grape growers, that's the day for you. Or get even wider exposure and register for two or three days!
Registration can be found
here
.
Find out about B.E.V. NY Sponsorship opportunities
here
Finger Lakes Grape Program - Cornell Cooperative Extension
Your Trusted Source for Research-Based Knowledge