Enrollment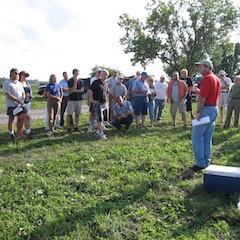 We invite you to enroll in the Finger Lakes Grape Program in 2020. When you enroll in the FLGP, you have a direct link to the latest information from Cornell and other resources around the country on topics that are important to you as a grape grower including pest management, vineyard nutrition, crop management, and farm business and marketing. The Finger Lakes Grape Program is committed to providing you with important and timely information through a variety of means to help you produce the best crop possible, as efficiently as possible.

With your enrollment, you receive:

The Finger Lakes Vineyard Update email messages,

Veraison to Harvest Newsletter

Vineyard consultations with FLGP viticulture staff

Important announcements about upcoming meetings and workshops.
You can also purchase copies of the 2019 New York and Pennsylvania Pest Management Guidelines for Grapes with your enrollment. Stated costs include postage.
The Grape IPM Guidelines will again be available online in 2019, but there is a cost to access them.
If you are interested in purchasing online access to the Guidelines, you can do so through the Cornell Store. Click this link to go to the ordering page. You can purchase both a hard copy and online access at a discounted rate for each.

The enrollment fee for residents of Ontario, Seneca, Schuyler, Steuben, and Yates Counties is $75. The fee for those from other New York counties or other states is $130.
Grape growers in Wayne County should contact the CCE Association office at 315-331-8415 for enrollment information.
CCE of Ontario County


480 N Main St
Canandaigua, NY 14424
(585) 394-3977
cceontario.org

CCE of Schuyler County


323 Owego St # 5
Montour Falls, NY 14865
(607) 535-7161
cceschuyler.org

CCE of Seneca County


9 E Main St #308
Waterloo, NY 13165
(315) 539-9251
senecacountycce.org

CCE of Steuben County


3 E Pulteney Square
Bath, NY 14810
(607) 664-2300
putknowledgetowork.org

CCE of Wayne County


1581 NY-88
Newark, NY 14513
(315) 331-8415
ccewayne.org

CCE of Yates County


417 Liberty Street, Suite 1024
Penn Yan, NY 14527
(315) 536-5134
yates.cce.cornell.edu
Upcoming Events
In-Person Class- Pesticide Applicator Exam Training
December 9 - December 16, 2020
12.9.20 1pm-5pm 12.10.20 1pm-3pm
Penn Yan, NY
CCE Yates will be offering small classes for those wishing to prepare to take their pesticide applicator exam. The training will cover the safe handling of pesticides, rules and regulations, formulations and much more. This course is not a 30-hour course. The training will take place in the Yates County Auditorium and
pre-registration is required.
Modeling and monitoring how grapevines gain and lose cold hardiness
December 16, 2020
3:00 - 4:30 PM
Guest speakers
Dr. Jason Londo
, USDA-ARS scientist, and
Dr. Jim Willwerth
, Brock University,will discuss their research and outreach programs and how they can help Eastern growers manage and sometimes prevent winter injury.
2021 Pesticide Training and Recertification Series

February 2 - February 23, 2021
7:00pm-9:30pm, Exam 6:00pm-10:00pm
Canandaigua, NY
Announcements
Spotted Lanternfly Found in Ithaca, NY
A population of spotted lanternfly (SLF) has been found in Ithaca, New York, just off the Cornell University campus.
They were found on their favorite host plant, another invasive species, tree of heaven (Ailanthus altissima). However, SLF also feeds on many other trees and plants, which, unfortunately, includes grapevines. With New York State's important Finger Lakes grape-growing region and wine industries so close to Ithaca, state agencies and pest-control experts are particularly concerned about this pest's impact in the region.