B.E.V. NY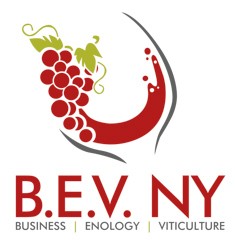 B.E.V. NY - New York's premier grape & wine education event of the year
B.E.V. NY is the annual grape and wine conference presented by Cornell's Finger Lakes Grape Program and the Enology Extension Laboratory. The conference consists of three days of programming, each one focused on a different aspect of the industry: Business. Enology. Viticulture. B.E.V. NY. The conference invites academic and industry experts to present information that addresses important issues for the industry, and to do so in a way that provides practical information to those who attend, and which can help

In addition to the conference, we host a trade show where exhibitors can talk directly with owners, sales and marketing staff, winemakers and grape growers, about their latest products and services. More than 400 people attend B.E.V. NY each year, so if you want to reach the growers, winemakers and business leaders in the dynamic and expanding grape and wine industry of the Finger Lakes and New York, there is no better place to be than at B.E.V. NY! Information about the trade show and various conference sponsorships is available below.
Be sure to visit the B.E.V. NY website for information about the conference program, trade show, and registration information.

Most Recent B.E.V. NY Winter Content
B.E.V. NY 2019 Exhibitor Information Now Available
Last Modified: December 6, 2018

Register now to be an exhibitor at the B.E.V. NY 2019 Trade Show!

B.E.V. NY 2019 Sponsorship Opportunities
Last Modified: December 6, 2018

Don't miss out on the chance to make your organization stand out from the crowd at B.E.V. NY. Sign up for one of our sponsorship opportunities!

Announcements
Save the Date- B.E.V. NY 2020
2020 B.E.V. NY Conference and Trade Show
Wednesday, February 26 - Friday, February 28, 2020
RIT Inn & Conference Center
Henrietta, NY
Registration and Trade Show information coming soon!