B.E.V. NY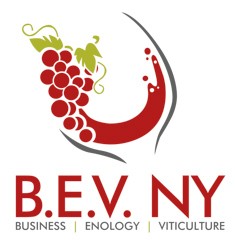 B.E.V. NY - New York's premier grape & wine education event of the year
B.E.V. NY is the annual grape and wine conference presented by Cornell's Finger Lakes Grape Program and the Enology Extension Laboratory. The conference consists of three days of programming, each one focused on a different aspect of the industry: Business. Enology. Viticulture. B.E.V. NY. The conference invites academic and industry experts to present information that addresses important issues for the industry, and to do so in a way that provides practical information to those who attend, and which can help

In addition to the conference, we host a trade show where exhibitors can talk directly with owners, sales and marketing staff, winemakers and grape growers, about their latest products and services. More than 400 people attend B.E.V. NY each year, so if you want to reach the growers, winemakers and business leaders in the dynamic and expanding grape and wine industry of the Finger Lakes and New York, there is no better place to be than at B.E.V. NY! Information about the trade show and various conference sponsorships is available below.
Be sure to visit the B.E.V. NY website for information about the conference program, trade show, and registration information.

Most Recent B.E.V. NY Winter Content
B.E.V. NY 2019 Exhibitor Information Now Available
Last Modified: December 6, 2018

Register now to be an exhibitor at the B.E.V. NY 2019 Trade Show!

B.E.V. NY 2019 Sponsorship Opportunities
Last Modified: December 6, 2018

Don't miss out on the chance to make your organization stand out from the crowd at B.E.V. NY. Sign up for one of our sponsorship opportunities!

Upcoming Events
Variable Rate Shoot Thinning Demonstration
May 24, 2019
12:00 PM
Branchport, NY
Terry Bates, director of the multi-state Efficient Vineyard project, will be in Branchport this Friday, May 24, to demonstrate a variable rate shoot thinning system that uses NDVI sensor data to change the rate of shoot thinning on the fly. This work is being done in preparation for the Shaulis Symposium Field Tour this summer, which will feature several new and emerging vineyard technologies during the tour.
Tailgate Meeting

May 28, 2019
4:30 pm - 6:00 pm
Canandaigua, NY
Our second tailgate meeting of 2019 will take place on May 28 at James Hicks Vineyard in Naples.
Announcements
Katie Gold Named New Grape Pathologist
Katie Gold has been named as the new assistant professor of Grape Disease Ecology and Epidemiology at Cornell AgriTech in Geneva. Katie is currently completing her Ph.D. at the University of Wisconsin - Madison. Upon completion of her Ph.D., she will conduct postdoctoral research at the NASA Jet Propulsion Lab (JPL) in California from August 2019 through January 2020. While at JPL, Katie will gain experience with the latest hardware and software for remote imaging with future application to digital agriculture and grape production. She will begin her tenure-track assistant professor position on February 1, 2020 with responsibilities that are 60% research and 40% extension.
Her research and extension seminars were on the topics of "Hyperspectral systems for pre-symptomatic potato disease detection" and "Agricultural sensors in Grape IPM", highlighting some of the tools and approaches that she will bring to the position. Katie is already setting up collaborations for her grape work in New York and plans to attend the American Society for Enology and Viticulture - Eastern Section Meeting in Geneva this July.