Impacts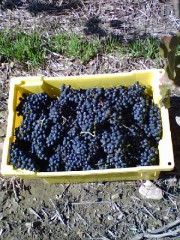 The Finger Lakes Grape Program continues to make impacts on the growers and agri-business professionals of the grape industry of NY. In addition, the team has ongoing, farther reaching impacts on the consumers of NY grown grapes and the economy of the state.
2016 Year in Review
The Finger Lakes Grape Program had another busy year in 2016. Between organizing another successful B.E.V. NY conference, hosting 10 Tailgate meetings around the region, conducting field trials and continuing our cooperative efforts with Finger Lakes Community College at our Teaching & Demonstration Vineyard, there was a lot going on. Fortunately, we had two great helpers this year in Donald Caldwell and Corrigan Herbert.

You can learn more about some of the work that we did last year in support of the grape growers in the Finger Lakes in this year's 'Year in Review'. Enjoy!

view complete impact (PDF; 2382 KB)
2015 Year in Review
view complete impact (PDF; 2594 KB)
2014 Year in Review
Upcoming Events
Tailgate Meeting

August 1, 2017
4:30 pm - 6:00 pm
Sodus, NY
Our seventh tailgate meeting of 2017 will take place on August 1 at Belle Terre Farm in Sodus.
NYS Wine Grape Growers Research Tour and Barbecue
August 2, 2017
1:00pm-9:00pm
Penn Yan, NY
The New York State Wine Grape Growers will hold their Summer Research Tour and BBQ on Wednesday, August 2.
EnoCert 101: Basic Viticulture & Enology
August 14 - August 15, 2017
8:30am-4:30pm
Geneva, NY
Announcements
Tailgate Meetings Around the Finger Lakes
The weather is warming up, and that means the start of another growing season in Finger Lakes vineyards. It also means the start of the Finger Lakes Grape Program's annual series of Tailgate Meetings, which are held every other week during the growing season. These meetings are a great opportunity to talk with FLGP staff and other growers about what's going on in the vineyards, and exchange ideas about how to make improvements on the farm.
Want to learn more about our Tailgate Meetings? Check out the video below, or better yet, come to a meeting this year. No cost, no registration necessary. Dates and locations are listed on our
Calendar of Events
.
Finger Lakes Grape Program - Cornell Cooperative Extension
Your Trusted Source for Research-Based Knowledge