Impacts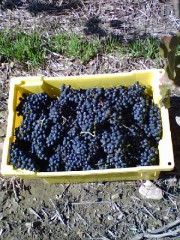 The Finger Lakes Grape Program continues to make impacts on the growers and agri-business professionals of the grape industry of NY. In addition, the team has ongoing, farther reaching impacts on the consumers of NY grown grapes and the economy of the state.
2016 Year in Review
The Finger Lakes Grape Program had another busy year in 2016. Between organizing another successful B.E.V. NY conference, hosting 10 Tailgate meetings around the region, conducting field trials and continuing our cooperative efforts with Finger Lakes Community College at our Teaching & Demonstration Vineyard, there was a lot going on. Fortunately, we had two great helpers this year in Donald Caldwell and Corrigan Herbert.

You can learn more about some of the work that we did last year in support of the grape growers in the Finger Lakes in this year's 'Year in Review'. Enjoy!

view complete impact (PDF; 2382 KB)
2015 Year in Review
view complete impact (PDF; 2594 KB)
2014 Year in Review
Upcoming Events
Tailgate Meeting

May 9, 2017
4:30 pm - 6:00 pm
Interlaken, NY
Our second tailgate meeting of 2017 will take place on May 9 at Airy Acres Vineyards in Interlaken.
Respirator Fit Test and Training
May 11, 2017
8:30 AM - 4 PM by appointment
Penn Yan, NY
The Finger Lakes Grape Program will be hosting a team from Thompson Health for respirator fit testing and training. Growers may sign up for a 20 minute appointment. Thompson Health's standard fees for the service will apply.
For more information, contact the Finger Lakes Grape Program office at (315) 536-5134.
Finger Lakes Spring Grape IPM Meeting

May 23, 2017
4:30 pm - 6:00 pm
Prattsburgh, NY
The Finger Lakes Spring Grape IPM Meeting is back this year! Come hear updates on disease and insect management, proper sprayer operation, the role of weather stations in pest management and more, and then enjoy dinner and social time with fellow growers.
This year's meeting will be held at Vine Country Farms in Pulteney NY on May 23, 2017 from 4:30 - 6:00 PM. Dinner will be provided, so registration is required. There is no charge for 2017 FLGP enrollees.
Announcements
Changes to Agricultural Worker Protection Standard
Changes made by the Environmental Protection Agency to the Agricultural Worker Protection Standard went into effect on January 2, 2017 and are directly relevant to many farms and workers in the grape industry.
More information can be found
here
.
Finger Lakes Grape Program - Cornell Cooperative Extension
Your Trusted Source for Research-Based Knowledge