IPM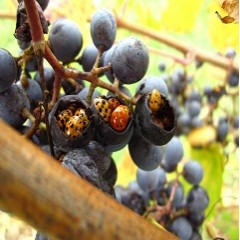 Grape growers benefit from implementing IPM - environmentally and economically sensible ways to protect crops from insects, plant diseases, weeds, and vertebrate pests. We work with grape processors, growers, local extension educators, faculty, crop consultants, and agricultural businesses to find IPM answers, develop new IPM methods, and deliver IPM information.
NYS IPM Program Mission: The New York State Integrated Pest Management Program develops sustainable ways to manage pests and helps people to use methods that minimize environmental, health and economic risks.
Most Recent IPM Summer Content
Managing Sour Rot in 2019: Fruit Fly Management Program
Last Modified: September 20, 2019
Managing fruit fly populations has been shown to be a critical component of sour rot control in grapes. This article discusses the importance of resistance management when developing an IPM strategy for fruit fly control, and reviews the materials approved for use in grapes for fruit fly control.

FIFRA 2(ee) Recommendations Available for Grape Rootworm Insecticides in NY
Tim Weigle, Team Leader, Statewide Grape IPM Specialist
Lake Erie Regional Grape Program
Last Modified: January 29, 2015

In conjunction with Greg Loeb, Professor, Department of Entomology, NYSAES, two replicated spray trials using 4 insecticides currently registered for use on grapes in New York State (Admire Pro, Danitol 2.4 EC, Leverage 360 and Sniper) were conducted by NYS IPM Program and LERGP staff in grower vineyards in the Lake Erie region.

Using NEWA Resources in a Vineyard IPM Strategy
Tim Weigle, Team Leader, Statewide Grape IPM Specialist
Lake Erie Regional Grape Program
Last Modified: March 7, 2013


Historically, control practices for vineyard pests in the eastern United States were made based on the calendar or on a growth stage such as bud break, bloom or verasion using materials with a broad spectrum of activity. This was a fairly straightforward approach to pest management, and for many years this type of spray program was very effective. However, as the nation became more conscious of pesticide use, the Food Quality Protection Act (FQPA) was introduced, and broad spectrum pesticides were either restricted in their usage, grapes were removed from the label, or were banned completely. In the recent past, we have seen more choices in fungicides and insecticides come on the market, but the trend is now toward less toxic and narrower spectrum pesticides.
Announcements
Save the Date- B.E.V. NY 2020
2020 B.E.V. NY Conference and Trade Show
Wednesday, February 26 - Friday, February 28, 2020
RIT Inn & Conference Center
Henrietta, NY
Registration and Trade Show information coming soon!