Resources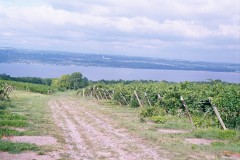 We have compiled a list of useful resources for growers, consultants and agri-business people, organized by category. We hope that these websites can provide you with additional information, photos, and guidance.
GENERAL
Cornell Cooperative Extension (CCE)
The Cornell Cooperative Extension website provides an overview of CCE programs across New York State.
FLGP Facebook Page
Follow the Finger Lakes Grape Program on Facebook!
http://www.facebook.com/CCEFLGP
GUIDELINES
2014 NY and PA Pest Management Guidelines
Guidelines for pest management guidelines for grapes from Cornell University. Includes links to pesticide labels.
PESTS
Network for Environment & Weather Awareness (NEWA)
Awareness for disease, insect and weather forecasts
Risk Assessment of GBM and Guidelines for Mgt of
Risk Assessment of Grape Berry Moth and Guidelines for Management of the Eastern Grape Leafhopper by T. E. Martinson, C. J. Hoffman, T. J. Dennehy, J. S. Kamas, and T. Weigle

Several factors have prompted the reevaluation of control recommendations for key pests of grapes in recent years. First, the costs of insecticides and their application have risen substantially. Growers who improve the efficiency of their use of pesticides can realize significant savings in production costs. Second, grape processors have responded to consumer desires to minimize pesticide residues in food by promoting judicious use of pesticides. Finally, increased governmental restrictions regarding what pesticides can be used in vineyards and how they may be used may increase the overall difficulty that growers encounter when using pesticides. The result of these factors is that while producers and processors continue to require control of economically-damaging pests, this now must be achieved with the least amount of pesticide possible. The Grape Berry Moth Risk Assessment Program was developed to address these concerns. In this publication we describe how Risk Assessment can be used to maintain acceptable control of grape berry moth and the Eastern grape leafhopper while minimizing use of insecticides. href="http://nysipm.cornell.edu/publications/grapeman/files/risk.pdf">http://nysipm.cornell.edu/publications/grapeman/files/risk.pdf
NYS IPM Fact Sheets for Grapes
http://www.nysipm.cornell.edu/factsheets/grapes/default.asp

Including Fact Sheets for: Banded Grape Bug, Climbing Cutworm, Grape Berry Moth, Grape Cane Gallmaker, Grape Cane Girdler, Grape Flea Beetle, Grape Leafhopper, Grape Rootworm, Grape Tumid Gallmaker, Grape Cane Borer, Angular Leaf Scorch, Black Rot, Botrytis Bunch Rot & Blight, Crown Gall, Downy Mildew, Eutypa Dieback, Fanleaf degeneration/decline disease of grapevines, Grape Leafroll Disease, Grapevine Powdery Mildew, Phomopsis Cane & Leaf Spot
SOIL HEALTH
The Cornell Nutrient Analysis Laboratory
Provide accurate and cost effective analysis of soil (Cornell Soil Health Test, Illinois Soil Nutrient Test, other specialized soil tests), plant and water samples.
Cornell Soil Health
Information to help you return your soil to a healthy state or keep an already good soil productive.
http://soilhealth.cals.cornell.edu
Upcoming Events
Tailgate Meeting

April 30, 2019
4:30 pm - 6:00 pm
Geneva, NY
Our first tailgate meeting of 2019 will take place at Three Brothers Wineries and Estates on Seneca Lake.
2019 Finger Lakes Spring Grape IPM Meeting

May 15, 2019
4:30 pm - 6:00 pm
Hammondsport, NY
Come hear updates on weed and disease management, spotted lanternfly, managing fruit fly populations for sour rot, and more. Be sure to stay and enjoy dinner and social time with your fellow growers afterwards.
This year's meeting will be held at the Doyle Vineyard Management farm in Hammondsport, NY on Wednesday, May 15, 2019 from 4:30 - 6:00 PM. Dinner will be provided, so registration is required. There is no charge for 2019 FLGP enrollees.
Announcements
Katie Gold Named New Grape Pathologist
Katie Gold has been named as the new assistant professor of Grape Disease Ecology and Epidemiology at Cornell AgriTech in Geneva. Katie is currently completing her Ph.D. at the University of Wisconsin - Madison. Upon completion of her Ph.D., she will conduct postdoctoral research at the NASA Jet Propulsion Lab (JPL) in California from August 2019 through January 2020. While at JPL, Katie will gain experience with the latest hardware and software for remote imaging with future application to digital agriculture and grape production. She will begin her tenure-track assistant professor position on February 1, 2020 with responsibilities that are 60% research and 40% extension.
Her research and extension seminars were on the topics of "Hyperspectral systems for pre-symptomatic potato disease detection" and "Agricultural sensors in Grape IPM", highlighting some of the tools and approaches that she will bring to the position. Katie is already setting up collaborations for her grape work in New York and plans to attend the American Society for Enology and Viticulture - Eastern Section Meeting in Geneva this July.