About Program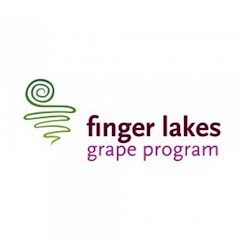 The Finger Lakes Grape Program (FLGP) is a regional extension program of Cornell Cooperative Extension serving the grape and wine industry of the Finger Lakes.
The FLGP provides unbiased, research-based information to the region's grape growers in areas including vineyard and pest management practices, new vineyard establishment, farm business management, marketing and business development and more as a means of supporting the industry's growth and long-term sustainability. This information is distributed to growers by a variety of means, including printed and electronic communications, field meetings and workshops, and an annual winter conference.
The Finger Lakes Grape Program is supported, in part, by six
county Cornell Cooperative Extensions including:
Ontario, Seneca, Schuyler, Steuben, Wayne and Yates Counties.

To visit one of these Cornell Cooperative Extension's web sites,
simply click on a county within the map.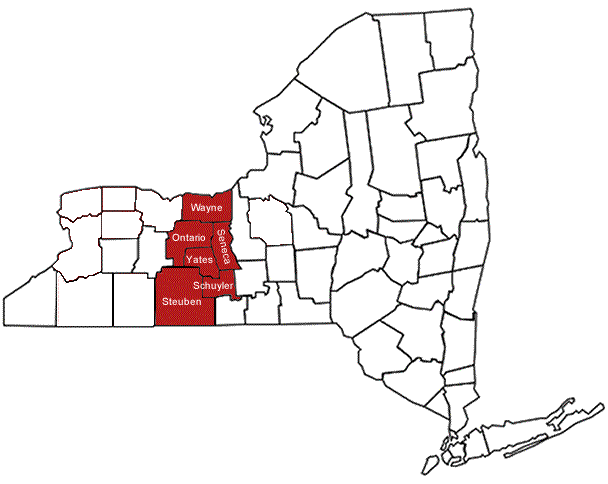 Upcoming Events
EnoCert 202: Tasting Room Sales Strategies
January 25, 2021
9:00 am - 12:00 pm
Most consumers' first contact with the New York wine industry is in a tasting room, so understanding their interests, motivations, and educational needs is key to promoting the industry as a whole and increasing individual sales. In this course, participants will learn how to engage guests to create a fun and profitable tasting room experience.
EnoCert 101: Intro to Viticulture & Enology
January 26 - January 27, 2021
9:00 am - 12:00 pm
This course will cover the basics of grape growing from the ground up. Through live interactive lectures, participants will understand how vineyard site, climate, and trellising systems impact grape production and quality. Participants will also expand their understanding of production steps for specific wine types. Upon completing this course, attendees will learn how different wine types (white, red, ros?, sparkling) are produced, and the key decisions that need to be made to influence wine style.
2021 Pesticide Training and Recertification Series

February 2 - February 23, 2021
7:00pm-9:30pm, Exam 6:00pm-10:00pm
Canandaigua, NY
Announcements
B.E.V. NY 2021 Sponsorships
Because B.E.V. NY will be held as a virtual conference with no trade show in 2021, we are providing a greater number of sponsorship opportunities for those companies and organizations that would like to be a part of this year's event. Please
click here
for a summary of the different sponsorship and advertising levels we are offering this year.
If you have questions or would like to discuss other options, please contact Hans Walter-Peterson at
hcw5@cornell.edu
.
Spotted Lanternfly Found in Ithaca, NY
A population of spotted lanternfly (SLF) has been found in Ithaca, New York, just off the Cornell University campus.
They were found on their favorite host plant, another invasive species, tree of heaven (Ailanthus altissima). However, SLF also feeds on many other trees and plants, which, unfortunately, includes grapevines. With New York State's important Finger Lakes grape-growing region and wine industries so close to Ithaca, state agencies and pest-control experts are particularly concerned about this pest's impact in the region.