About Program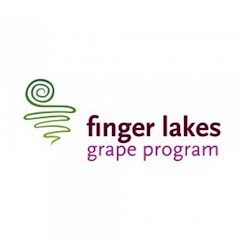 The Finger Lakes Grape Program (FLGP) is a regional extension program of Cornell Cooperative Extension serving the grape and wine industry of the Finger Lakes.
The FLGP provides unbiased, research-based information to the region's grape growers in areas including vineyard and pest management practices, new vineyard establishment, farm business management, marketing and business development and more as a means of supporting the industry's growth and long-term sustainability. This information is distributed to growers by a variety of means, including printed and electronic communications, field meetings and workshops, and an annual winter conference.
The Finger Lakes Grape Program is supported, in part, by six
county Cornell Cooperative Extensions including:
Ontario, Seneca, Schuyler, Steuben, Wayne and Yates Counties.

To visit one of these Cornell Cooperative Extension's web sites,
simply click on a county within the map.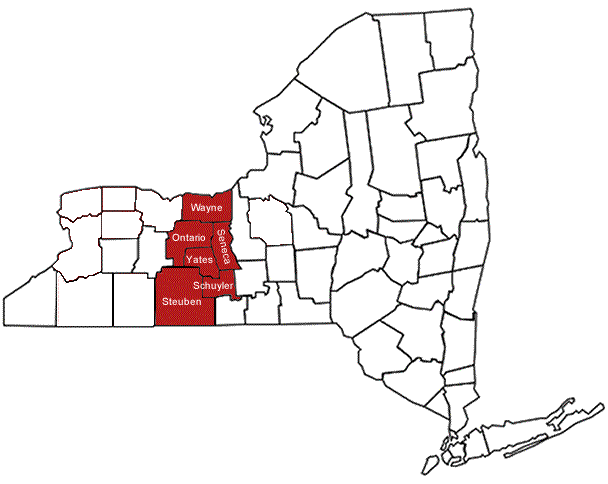 Upcoming Events
Tailgate Meeting

April 30, 2019
4:30 pm - 6:00 pm
Geneva, NY
Our first tailgate meeting of 2019 will take place at Three Brothers Wineries and Estates on Seneca Lake.
2019 Finger Lakes Spring Grape IPM Meeting

May 15, 2019
4:30 pm - 6:00 pm
Hammondsport, NY
Come hear updates on weed and disease management, spotted lanternfly, managing fruit fly populations for sour rot, and more. Be sure to stay and enjoy dinner and social time with your fellow growers afterwards.
This year's meeting will be held at the Doyle Vineyard Management farm in Hammondsport, NY on Wednesday, May 15, 2019 from 4:30 - 6:00 PM. Dinner will be provided, so registration is required. There is no charge for 2019 FLGP enrollees.
Announcements
Katie Gold Named New Grape Pathologist
Katie Gold has been named as the new assistant professor of Grape Disease Ecology and Epidemiology at Cornell AgriTech in Geneva. Katie is currently completing her Ph.D. at the University of Wisconsin - Madison. Upon completion of her Ph.D., she will conduct postdoctoral research at the NASA Jet Propulsion Lab (JPL) in California from August 2019 through January 2020. While at JPL, Katie will gain experience with the latest hardware and software for remote imaging with future application to digital agriculture and grape production. She will begin her tenure-track assistant professor position on February 1, 2020 with responsibilities that are 60% research and 40% extension.
Her research and extension seminars were on the topics of "Hyperspectral systems for pre-symptomatic potato disease detection" and "Agricultural sensors in Grape IPM", highlighting some of the tools and approaches that she will bring to the position. Katie is already setting up collaborations for her grape work in New York and plans to attend the American Society for Enology and Viticulture - Eastern Section Meeting in Geneva this July.