About Program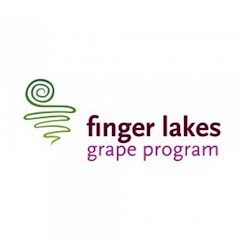 The Finger Lakes Grape Program (FLGP) is a regional extension program of Cornell Cooperative Extension serving the grape and wine industry of the Finger Lakes.
The FLGP provides unbiased, research-based information to the region's grape growers in areas including vineyard and pest management practices, new vineyard establishment, farm business management, marketing and business development and more as a means of supporting the industry's growth and long-term sustainability. This information is distributed to growers by a variety of means, including printed and electronic communications, field meetings and workshops, and an annual winter conference.
The Finger Lakes Grape Program is supported, in part, by six
county Cornell Cooperative Extensions including:
Ontario, Seneca, Schuyler, Steuben, Wayne and Yates Counties.

To visit one of these Cornell Cooperative Extension's web sites,
simply click on a county within the map.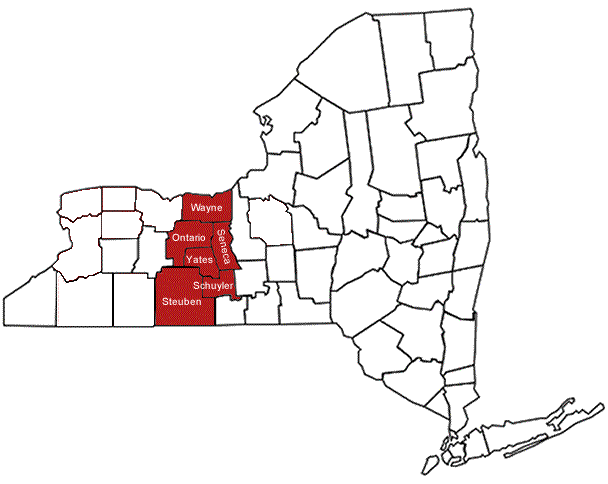 Upcoming Events
2018 Pesticide Training and Re-certification Series

February 5 - March 5, 2018
7:00 pm-9:00 pm (Exam 6:30 pm- 11:00 pm)
Canandaugia, NY
Anyone interested in obtaining a pesticide certification and meets the DEC (Department of Environmental Conservation) experience / education requirements OR current applicators seeking pesticide recertification credits should attend. 2.5 recertification core credits will be available for each class.
Core Training for Private Pesticide Applicator Certification
February 22, 2018
1:00 pm- 5:00pm
Penn Yan, NY
This course will cover the information needed to take the private pesticide applicator core exam with break-out sessions available for select category training. Private certification covers a person applying restricted use pesticides to property that they or their employer owns or rents.
This is not a 30-hour course
.
Announcements
Donald Caldwell Joins the FLGP
Iím very happy to announce that Donald Caldwell will be joining the Finger Lakes Grape Program later this month. Donís position will be similar to the one previously held by Gillian Trimber and Mike Colizzi, but will be more focused on our field trials and other projects, including the day to day operations at the Teaching & Demonstration Vineyard.
Don is not new to the industry, having worked in the vineyards at both Sawmill Creek and Glenora Farms in recent years. He is not a stranger to the Finger Lakes Grape Program either, having worked with us during the summer of 2016 on our invasive pest monitoring project, and he stayed on through harvest that year helping out with a few other projects as well.
Donís first day with the Grape Program will be Thursday, February 15, so many of you will get the chance to meet him at B.E.V. NY, if you havenít met him already. Weíll be trying to get him around to meet many of you and to visit more of the regionís vineyards this winter and spring as the growing season gets underway.
Welcome aboard Don!
Finger Lakes Grape Program - Cornell Cooperative Extension
Your Trusted Source for Research-Based Knowledge