Business Management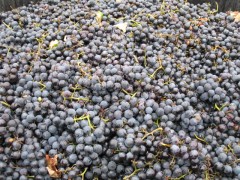 While many might think that growing grapes and running a winery sounds like a perfect way to live, the fact is that these are businesses that require good information to make decisions about production practices, labor, marketing, and more. The Finger Lakes Grape Program works with experts from Cornell, Penn State, and the private and non-profit sectors to bring this kind of information to growers.
BUSINESS MANAGEMENT CATEGORIES
Relevant Event
Tailgate Meeting

August 29, 2017
4:30 pm - 6:00 pm
Lodi, NY
Most Recent Business Management Summer Content
Changes to Agricultural Worker Protection Standard
Last Modified: January 9, 2017
2016 Finger Lakes Grape Price List
Last Modified: September 7, 2016
Finger Lakes Grape Prices - 2015
Last Modified: August 27, 2015
Upcoming Events
Enocert 202: Tasting Room Sales Strategies
August 18, 2017
8:30am-4:30pm
Geneva, NY
Finger Lakes Grape Program Field Meeting
August 24, 2017
4:30pm-6:00pm
Penn Yan, NY
Over the past several years, we have had a few different talks by members of the Lake Erie Regional Grape Program at our B.E.V. NY conference about their work using NDVI images and other technology to understand vineyard variability, and then using that information to improve management practices, including the incorporation of various mechanization tools.
Tailgate Meeting

August 29, 2017
4:30 pm - 6:00 pm
Lodi, NY
Our ninth and final tailgate meeting of 2017 will take place on August 29 at Lamoreaux Landing/Wagner Farms in Lodi, NY .
Announcements
No Announcements at this time
Finger Lakes Grape Program - Cornell Cooperative Extension
Your Trusted Source for Research-Based Knowledge