Event Details
Date
March 1 - March 3, 2017
Time
7:30 am - 4:30 pm
Location
RIT Inn & Conference Center
5257 West Henrietta Road
Henrietta, NY 14467
Cost
$500.00 Early Registration Cost (March 2-3)
(additional attendee $35.00 ea.)

$650.00 Late Registration (March 2-3)

Early registration discount ends February 1, 2017.


Host
Finger Lakes Grape Program
Pre-Registration Deadline: February 20, 2017
B.E.V. NY 2017 Trade Show
March 1 - March 3, 2017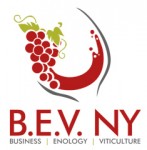 B.E.V. NY 2017 Trade Show - SOLD OUT!!
THE 2017 TRADE SHOW IS SOLD OUT. IF YOU WOULD LIKE TO BE ADDED TO THE WAITING LIST, PLEASE CONTACT SHELLY VACCARO AT
MW69@CORNELL.EDU
.
WE STILL HAVE A FEW TABLES AVAILABLE FOR EXHIBITORS TO DISPLAY DURING OUR BUSINESS DAY PROGRAM ON WEDNESDAY, MARCH 1. PLEASE SEE THE EXHIBITORS PACKET FOR INFORMATION.
THERE ARE ALSO SEVERAL SPONSORSHIPS FOR B.E.V. NY STILL AVAILABLE AS WELL. INFORMATION ON THESE IS ALSO INCLUDED IN THE EXHIBITOR PACKET, OR ON
OUR SPONSORSHIP PAGE
.
B.E.V. NY is New York's annual conference for the grape and wine industry, combining the resources of Cornell's Enology Extension Laboratory, the Finger Lakes Grape Program, and the Charles H. Dyson School of Applied Economics and Management.
Over 500 people attend B.E.V. NY each year, so if you want to reach the growers, winemakers and business leaders in the dynamic and growing grape and wine industry of the Finger Lakes region and much of New York, there's no better place to be than at B.E.V. NY!

To register, please fill out the appropriate Exhibitor Registration Form included in the Exhibitor Information Packet and mail or email it to Shelly Vaccaro at the address indicated on the form.

To pay for your exhibitor registration, you may include a check with your registration form, payable to the Finger Lakes Grape Program, or you can pay with a credit card using our online payment form.
If you have questions, please contact Shelly Vaccaro at mw69@cornell.edu or (315) 787-2274. Once you have registered as an exhibitor, Shelly will contact you to confirm your exhibit location.
If you are interested in sponsorship opportunities at B.E.V. NY, please click here for details.
B.E.V. NY 2017 Exhibitor & Sponsorship Information (PDF; 2477KB)
Upcoming Events
CCE Ontario County Pesticide Training and Re-certification Series

February 5 - February 26, 2020
7:00 PM - 9:30 PM
Canandaigua, NY
For more information on this event please contact Russ Welser at the Ontario County CCE office @ 585-394-3977 x 427 or 436
Announcements
B.E.V. NY 2020
Registration is now open for B.E.V. NY 2020!
B.E.V. NY 2020
February 26-28, 2020
RIT Inn and Convention Center
5257 West Henrietta Road
Rochester, NY 14467

Slow Moving Vehicle Workshop
February 13th 7-9pm
Benton Fire Hall
932 State Route 14A
Penn Yan, NY 14527
Join us for a workshop for the Do's and Don'ts that involve slow moving vehicles including farm equipment, construction equipment, and horse drawn buggies.
Free and open to the public with light refreshments offered.
For more information contact:
Henry Martin:
315-536-4736