Event Details
Date
December 8, 2017
Time
1:00 PM - 4:00 PM
Location
Finger Lakes Teaching and Demonstration Vineyard
1020 Anthony Road
Penn Yan, NY 14527
Cost
$25.00 in advance
(additional attendee $25.00 ea.)

At the Door
$40.00

Host
Finger Lakes Grape Program
Pre-Registration Deadline: December 7, 2017

EVENT HAS PASSED
December Pruning Workshop
December 8, 2017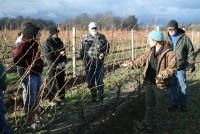 Interested in learning how to prune grapevines? You won't want to miss the Finger Lakes Grape Program's pruning class and hands-on demonstration.
There will be a brief indoor session in which we'll introduce proper techniques and answer any questions you may have, followed by ample time outside in our Teaching and Demonstration Vineyard to practice what you've learned. All attendees will have the opportunity to prune vines on two different training systems with guidance from Cooperative Extension educators.
Instruction available in Spanish for portions of the workshop.
Please remember to dress for the weather, and bring your own pruning shears.
Questions? Email Gillian Trimber at gmt47@cornell.edu, or call the Finger Lakes Grape Program office at (315)-536-5134.
Please note that the cost of registration is $25 per person in advance, $40 per person at the door.
Pruning Workshop Dec 2017 (PDF; 2073KB)
Upcoming Events
2018 Pesticide Training and Re-certification Series

February 5 - March 5, 2018
7:00 pm-9:00 pm (Exam 6:30 pm- 11:00 pm)
Canandaugia, NY
Anyone interested in obtaining a pesticide certification and meets the DEC (Department of Environmental Conservation) experience / education requirements OR current applicators seeking pesticide recertification credits should attend. 2.5 recertification core credits will be available for each class.
Announcements
Position Opening with Finger Lakes Grape Program
The FLGP is going to be hiring a new program assistant/technician in 2018. Gillian Trimber, our viticulture educator who has been with the Grape Program since September 2015, has decided to pursue some other opportunities, and will be leaving us at the end of December.
The new position will have a greater emphasis on assisting with field work than in the past, including setting up and maintaining field trials and demonstrations, data collection and data entry, and maintenance of the Teaching and Demonstration Vineyard. More information about the qualifications and duties of the position, along with information on how to apply, can be found at
http://tiny.cc/ViticultureAideWDR0013103.
The position will be posted until December 17, or until the position is filled. Please pass this information along to anybody that you think might be interested in the position.
Gillian will be helping us to finish up some final projects - including hosting a pruning workshop on Friday, December 8 (see Upcoming Events for more details) - and helping us to prepare for the transition to the new position. Her enthusiasm for Extension and the industry, her upbeat attitude, and her hard work have made her a tremendous asset for the Finger Lakes Grape Program over the past 2 years. I will miss having her as part of our team.
SAVE THE DATE!!
2018 B.E.V. NY Conference and Trade Show
Wednesday, February 28 - Friday, March 2, 2018
RIT Inn & Conference Center
Henrietta, NY
Registration is now open for the 2018 Trade Show here:
https://reg.cce.cornell.edu/tradeshow_10504
Finger Lakes Grape Program - Cornell Cooperative Extension
Your Trusted Source for Research-Based Knowledge