Event Details
Date
December 8, 2017
Time
1:00 PM - 4:00 PM
Location
Finger Lakes Teaching and Demonstration Vineyard
1020 Anthony Road
Penn Yan, NY 14527
Cost
$25.00 in advance
(additional attendee $25.00 ea.)

At the Door
$40.00

Host
Finger Lakes Grape Program
Pre-Registration Deadline: December 7, 2017

EVENT HAS PASSED
December Pruning Workshop
December 8, 2017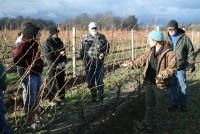 Interested in learning how to prune grapevines? You won't want to miss the Finger Lakes Grape Program's pruning class and hands-on demonstration.
There will be a brief indoor session in which we'll introduce proper techniques and answer any questions you may have, followed by ample time outside in our Teaching and Demonstration Vineyard to practice what you've learned. All attendees will have the opportunity to prune vines on two different training systems with guidance from Cooperative Extension educators.
Instruction available in Spanish for portions of the workshop.
Please remember to dress for the weather, and bring your own pruning shears.
Questions? Email Gillian Trimber at gmt47@cornell.edu, or call the Finger Lakes Grape Program office at (315)-536-5134.
Please note that the cost of registration is $25 per person in advance, $40 per person at the door.
Pruning Workshop Dec 2017 (PDF; 2073KB)
Upcoming Events
Tailgate Meeting

July 24, 2018
4:30 pm - 6:00 pm
North Rose, NY
Our sixth tailgate meeting of 2018 will take place on July 24 at Smith Brothers Farm in North Rose.
Announcements
No Announcements at this time
Finger Lakes Grape Program - Cornell Cooperative Extension
Your Trusted Source for Research-Based Knowledge