Sponsorship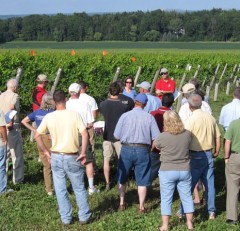 From time to time, the Finger Lakes Grape Program looks for financial support from agri-businesses to supplement our commitment to bring affordable, research-based knowledge to producers in New York State. Sponsorship opportunities exist to support some of our educational workshops and support our newsletter. Each sponsorship opportunity listed below provides information on sponsorship costs, target audience, estimated audience size, and company recognition.
B.E.V. NY Sponsorship Opportunities
Event Sponsorship Opportunities
Newsletter Sponsorship Opportunities
Announcements
Save the Date- B.E.V. NY 2020
2020 B.E.V. NY Conference and Trade Show
Wednesday, February 26 - Friday, February 28, 2020
RIT Inn & Conference Center
Henrietta, NY
Registration and Trade Show information coming soon!