Sponsorship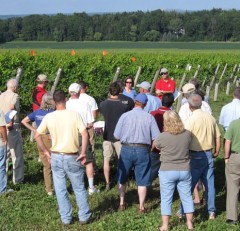 From time to time, the Finger Lakes Grape Program looks for financial support from agri-businesses to supplement our commitment to bring affordable, research-based knowledge to producers in New York State. Sponsorship opportunities exist to support some of our educational workshops and support our newsletter. Each sponsorship opportunity listed below provides information on sponsorship costs, target audience, estimated audience size, and company recognition.
B.E.V. NY Sponsorship Opportunities
Event Sponsorship Opportunities
Newsletter Sponsorship Opportunities
Upcoming Events
No upcoming events at this time.
Announcements
2021 Finger Lakes Grape Price Listing Now Availabl
The FLGP's 2021 Grape Price Listing is available now.
Click here
to read a short summary and to see the full listing.