Sponsorship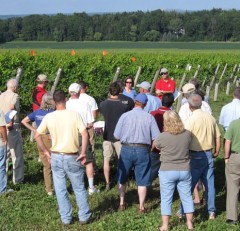 From time to time, the Finger Lakes Grape Program looks for financial support from agri-businesses to supplement our commitment to bring affordable, research-based knowledge to producers in New York State. Sponsorship opportunities exist to support some of our educational workshops and support our newsletter. Each sponsorship opportunity listed below provides information on sponsorship costs, target audience, estimated audience size, and company recognition.
B.E.V. NY Sponsorship Opportunities
Event Sponsorship Opportunities
Newsletter Sponsorship Opportunities
Upcoming Events
FLGP In-Person Spring IPM Meeting

May 11, 2021
4:00-5:30PM
Penn Yan, NY
Registration for the in-person version of the FLGP's Spring Grape IPM Meeting. This meeting is mainly intended for those who are unable to participate in our online IPM meeting due to the lack of Internet access or for other reasons.
Due to COVID-19 protocols, attendance is being limited to 20 participants.
Date: May 11, 2021 4:00 - 5:30 pm
Location: Mel Hoover's Farm, 3307 Old Bath Rd, Penn Yan NY 14527
Registration can be done by calling or emailing Brittany Griffin, 315-536-5134 or bg393@cornell.edu
FLGP Tailgate Meeting #1

May 25, 2021
4:30-6:00PM
Hi there,
You are invited to a Zoom meeting.
When: May 25th, 2021 04:30 PM Eastern Time (US and Canada)
Register in advance for this meeting:
https://cornell.zoom.us/meeting/register/tJwrceqprzksHNXJTbu-5ViDvfB9E0hcUObf
After registering, you will receive a confirmation email containing information about joining the meeting.
FLGP Tailgate Meeting #2

June 8, 2021
4:30-6:00PM
Branchport, NY
"Live" Tailgate Meeting - June 8, 2021 4:30 - 6:00 PM
Location: Clearview Farms (operated by the Tones Family), 4150 Stever Hill Road, Branchport NY 14418
Attendance will be limited to a maximum of 20 people to accommodate physical distancing requirements.
Announcements
No Announcements at this time