Sponsorship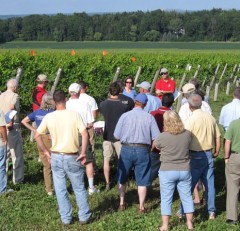 From time to time, the Finger Lakes Grape Program looks for financial support from agri-businesses to supplement our commitment to bring affordable, research-based knowledge to producers in New York State. Sponsorship opportunities exist to support some of our educational workshops and support our newsletter. Each sponsorship opportunity listed below provides information on sponsorship costs, target audience, estimated audience size, and company recognition.
B.E.V. NY Sponsorship Opportunities
Event Sponsorship Opportunities
Newsletter Sponsorship Opportunities
Upcoming Events
Enocert 202: Tasting Room Sales Strategies
August 18, 2017
8:30am-4:30pm
Geneva, NY
Finger Lakes Grape Program Field Meeting
August 24, 2017
4:30pm-6:00pm
Penn Yan, NY
Over the past several years, we have had a few different talks by members of the Lake Erie Regional Grape Program at our B.E.V. NY conference about their work using NDVI images and other technology to understand vineyard variability, and then using that information to improve management practices, including the incorporation of various mechanization tools.
Tailgate Meeting

August 29, 2017
4:30 pm - 6:00 pm
Lodi, NY
Our ninth and final tailgate meeting of 2017 will take place on August 29 at Lamoreaux Landing/Wagner Farms in Lodi, NY .
Announcements
No Announcements at this time
Finger Lakes Grape Program - Cornell Cooperative Extension
Your Trusted Source for Research-Based Knowledge