Sponsorship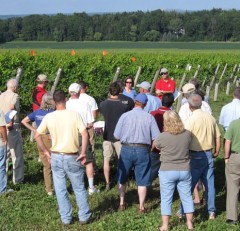 From time to time, the Finger Lakes Grape Program looks for financial support from agri-businesses to supplement our commitment to bring affordable, research-based knowledge to producers in New York State. Sponsorship opportunities exist to support some of our educational workshops and support our newsletter. Each sponsorship opportunity listed below provides information on sponsorship costs, target audience, estimated audience size, and company recognition.
B.E.V. NY Sponsorship Opportunities
Event Sponsorship Opportunities
Newsletter Sponsorship Opportunities
Upcoming Events
Tailgate Meeting

July 5, 2017
4:30 pm - 6:00 pm
Hector, NY
Our fifth tailgate meeting of 2017 will take place on July 5 at Atwater Estate Vineyard in Hector NY. 
Public Hearing Regarding Creation of a NY Grape Research Order
July 12, 2017
10:00 am - 12:00 pm
Geneva, NY
The Department of Ag & Markets will be holding a public hearing to receive input on the need for a Grape Research order in New York. Growers are encouraged to attend and to provide their input on this important issue.
Tailgate Meeting

July 18, 2017
4:30 pm - 6:00 pm
Hammondsport, NY
Our sixth tailgate meeting of 2017 will take place on July 18 at Keuka Lake Vineyards in Penn Yan.
Announcements
Tailgate Meetings Around the Finger Lakes
The weather is warming up, and that means the start of another growing season in Finger Lakes vineyards. It also means the start of the Finger Lakes Grape Program's annual series of Tailgate Meetings, which are held every other week during the growing season. These meetings are a great opportunity to talk with FLGP staff and other growers about what's going on in the vineyards, and exchange ideas about how to make improvements on the farm.
Want to learn more about our Tailgate Meetings? Check out the video below, or better yet, come to a meeting this year. No cost, no registration necessary. Dates and locations are listed on our
Calendar of Events
.
Finger Lakes Grape Program - Cornell Cooperative Extension
Your Trusted Source for Research-Based Knowledge