Sponsorship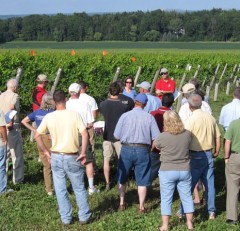 From time to time, the Finger Lakes Grape Program looks for financial support from agri-businesses to supplement our commitment to bring affordable, research-based knowledge to producers in New York State. Sponsorship opportunities exist to support some of our educational workshops and support our newsletter. Each sponsorship opportunity listed below provides information on sponsorship costs, target audience, estimated audience size, and company recognition.
B.E.V. NY Sponsorship Opportunities
Event Sponsorship Opportunities
Newsletter Sponsorship Opportunities
Upcoming Events
In-Person Class- Pesticide Applicator Exam Training
December 9 - December 16, 2020
12.9.20 1pm-5pm 12.10.20 1pm-3pm
Penn Yan, NY
CCE Yates will be offering small classes for those wishing to prepare to take their pesticide applicator exam. The training will cover the safe handling of pesticides, rules and regulations, formulations and much more. This course is not a 30-hour course. The training will take place in the Yates County Auditorium and
pre-registration is required.
Modeling and monitoring how grapevines gain and lose cold hardiness
December 16, 2020
3:00 - 4:30 PM
Guest speakers
Dr. Jason Londo
, USDA-ARS scientist, and
Dr. Jim Willwerth
, Brock University,will discuss their research and outreach programs and how they can help Eastern growers manage and sometimes prevent winter injury.
2021 Pesticide Training and Recertification Series

February 2 - February 23, 2021
7:00pm-9:30pm, Exam 6:00pm-10:00pm
Canandaigua, NY
Announcements
Spotted Lanternfly Found in Ithaca, NY
A population of spotted lanternfly (SLF) has been found in Ithaca, New York, just off the Cornell University campus.
They were found on their favorite host plant, another invasive species, tree of heaven (Ailanthus altissima). However, SLF also feeds on many other trees and plants, which, unfortunately, includes grapevines. With New York State's important Finger Lakes grape-growing region and wine industries so close to Ithaca, state agencies and pest-control experts are particularly concerned about this pest's impact in the region.