Sponsorship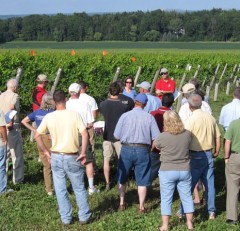 From time to time, the Finger Lakes Grape Program looks for financial support from agri-businesses to supplement our commitment to bring affordable, research-based knowledge to producers in New York State. Sponsorship opportunities exist to support some of our educational workshops and support our newsletter. Each sponsorship opportunity listed below provides information on sponsorship costs, target audience, estimated audience size, and company recognition.
B.E.V. NY Sponsorship Opportunities
It's time to make your plans to be a part of B.E.V. NY 2017!
B.E.V. NY is New York's annual conference for the grape and wine industry, combining the resources of Cornell's Extension Enology Lab, the Finger Lakes Grape Program, and the Charles H. Dyson School of Applied Economics and Management. More than 500 people attend B.E.V. NY each year to hear the latest information about marketing, winemaking and grape growing from academic and industry experts from New York and beyond. If you want to reach the growers, winemakers and business leaders in the dynamic and expanding grape and wine industry of the Finger Lakes and much of New York, there's no better place to be than at B.E.V. NY!
The two-day trade show will take place on Thursday, March 2 and Friday, March 3, giving you the opportunity to interact with winery owners, managers, winemakers and grape growers from the Finger Lakes and beyond. We have set aside ample time on both days for the trade show, where attendees can learn about your products and services. And in order to encourage more visitors to visit the exhibit hall, the coffee service will be placed in the hall with the exhibitors this year.
Information about exhibitor registration and sponsorship opportunities can be found in the Exhibitor Packet document below.
Sponsorship Packet (PDF; 1325KB)
Event Sponsorship Opportunities
Newsletter Sponsorship Opportunities
Upcoming Events
Tailgate Meeting

May 9, 2017
4:30 pm - 6:00 pm
Interlaken, NY
Our second tailgate meeting of 2017 will take place on May 9 at Airy Acres Vineyards in Interlaken.
Respirator Fit Test and Training
May 11, 2017
8:30 AM - 4 PM by appointment
Penn Yan, NY
The Finger Lakes Grape Program will be hosting a team from Thompson Health for respirator fit testing and training. Growers may sign up for a 20 minute appointment. Thompson Health's standard fees for the service will apply.
For more information, contact the Finger Lakes Grape Program office at (315) 536-5134.
Finger Lakes Spring Grape IPM Meeting

May 23, 2017
4:30 pm - 6:00 pm
Prattsburgh, NY
The Finger Lakes Spring Grape IPM Meeting is back this year! Come hear updates on disease and insect management, proper sprayer operation, the role of weather stations in pest management and more, and then enjoy dinner and social time with fellow growers.
This year's meeting will be held at Vine Country Farms in Pulteney NY on May 23, 2017 from 4:30 - 6:00 PM. Dinner will be provided, so registration is required. There is no charge for 2017 FLGP enrollees.
Announcements
Changes to Agricultural Worker Protection Standard
Changes made by the Environmental Protection Agency to the Agricultural Worker Protection Standard went into effect on January 2, 2017 and are directly relevant to many farms and workers in the grape industry.
More information can be found
here
.
Finger Lakes Grape Program - Cornell Cooperative Extension
Your Trusted Source for Research-Based Knowledge