Sponsorship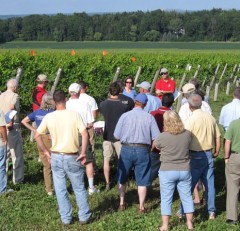 From time to time, the Finger Lakes Grape Program looks for financial support from agri-businesses to supplement our commitment to bring affordable, research-based knowledge to producers in New York State. Sponsorship opportunities exist to support some of our educational workshops and support our newsletter. Each sponsorship opportunity listed below provides information on sponsorship costs, target audience, estimated audience size, and company recognition.
B.E.V. NY Sponsorship Opportunities
Event Sponsorship Opportunities
Newsletter Sponsorship Opportunities
Upcoming Events
CCE Ontario County Pesticide Training and Re-certification Series

February 5 - February 26, 2020
7:00 PM - 9:30 PM
Canandaigua, NY
For more information on this event please contact Russ Welser at the Ontario County CCE office @ 585-394-3977 x 427 or 436
Announcements
B.E.V. NY 2020
Registration is now open for B.E.V. NY 2020!
B.E.V. NY 2020
February 26-28, 2020
RIT Inn and Convention Center
5257 West Henrietta Road
Rochester, NY 14467

Slow Moving Vehicle Workshop
February 13th 7-9pm
Benton Fire Hall
932 State Route 14A
Penn Yan, NY 14527
Join us for a workshop for the Do's and Don'ts that involve slow moving vehicles including farm equipment, construction equipment, and horse drawn buggies.
Free and open to the public with light refreshments offered.
For more information contact:
Henry Martin:
315-536-4736