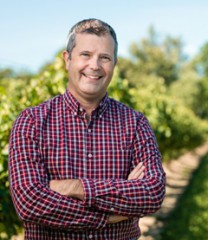 Hans Walter-Peterson
Team Leader, Viticulture Extension Specialist
CCE Yates County
417 Liberty Street
Suite 1024
Penn Yan, NY 14527
phone 315-536-5134
cell 315-521-8789
fax 315-536-5117
email Hans
Areas of Interest
Vineyard nutrition, canopy management, soils, vineyard mechanization, grower & winery relations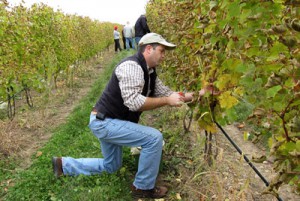 My program focuses on providing information to growers on viticultural practices such as vineyard site selection and establishment, selection of grape varieties, rootstocks, and training systems, canopy and crop load management, soils, vineyard nutrition and water management, and improving vineyard management efficiency. I am also working with Cornell's extension enologists to help grape growers and winemakers better understand each others' issues in order to improve working relations between the two groups.
Upcoming Events
VineBalance 2022: Ecosystem Health
November 30, 2021
4:00-5:30PM
Sustainable farming is a holistic approach that acknowledges the interconnection between agriculture and natural ecosystems. Encouraging a healthy ecosystem in and around the vineyard is essential to soil health, biodiversity, and pollinator habitat.


VineBalance 2022: Climate Resiliency
December 7, 2021
4:00-5:30PM
Climate resiliency involves a set of practices and capacities that are known to help withstand climate change at the farm level through carbon sequestration, adaptation, and risk mitigation. It is important for growers to understand the science of climate change and build resiliency measures into their environmental, social, and economic management strategies.


VineBalance 2022: Social Equity
December 14, 2021
4:00-5:30PM
Social equity addresses the "people" component of the so-called Three P's of Sustainability: people, planet, and prosperity. This can be achieved through thoughtful human resource management, employee benefits, and worker health and safety measures.

Announcements
No Announcements at this time