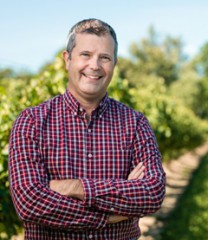 Hans Walter-Peterson
Team Leader, Viticulture Extension Specialist
CCE Yates County
417 Liberty Street
Suite 1024
Penn Yan, NY 14527
phone 315-536-5134
cell 315-521-8789
fax 315-536-5117
email Hans
Areas of Interest
Vineyard nutrition, canopy management, soils, vineyard mechanization, grower & winery relations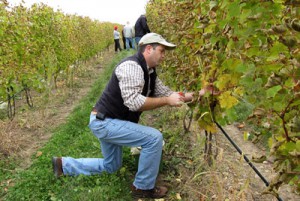 My program focuses on providing information to growers on viticultural practices such as vineyard site selection and establishment, selection of grape varieties, rootstocks, and training systems, canopy and crop load management, soils, vineyard nutrition and water management, and improving vineyard management efficiency. I am also working with Cornell's extension enologists to help grape growers and winemakers better understand each others' issues in order to improve working relations between the two groups.
Upcoming Events
Tailgate Meeting

August 21, 2018
4:30 pm - 6:00 pm
Ovid, NY
Our eighth tailgate, and final tailgate meeting of 2018 will take place on August 21 at Hosmer Winery near Ovid, NY.
FLGP Field Meeting
August 28, 2018
4:40 - 6:00 PM
Lodi, NY
Dr. Justine Vanden Heuvel and the FLGP will be presenting information from some recent projects. Topics will include differential harvesting based on NDVI imaging, mycorrhizal fungi to improve root function in grapevines, under-vine cover crops, and site and clone influences on Riesling. We will present research wines from both the differential harvest and clonal projects during the meeting as well.
USDA-ARS Apple, Grape, and Tart Cherry Germplasm Collection Tour
September 15, 2018
9:00 am - 11:00 am
Geneva, NY
The Clonal collection of Plant Genetic Resources Unit, USDA-ARS, Geneva, NY is pleased to announce the annual tour on September 15, 2018, Saturday (Third Saturday of September every year) from 9:00 am to 11:00 am.
Announcements
No Announcements at this time
Finger Lakes Grape Program - Cornell Cooperative Extension
Your Trusted Source for Research-Based Knowledge