Dr. Kees van Leeuwen, University of Bordeaux
Hans Walter-Peterson, Team Leader, Viticulture Extension Specialist
Finger Lakes Grape Program
December 10, 2014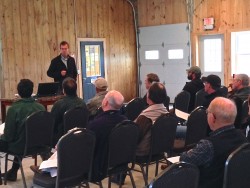 On October 21, 2014, Dr. Kees van Leeuwen, professor of viticulture at the University of Bordeaux, gave a presentation to Finger Lakes growers and winemakers at Three Brothers Winery. Before Dr. van Leeuwen joined the faculty at the University of Bordeaux, he was the vineyard manager for Cheateau Cheval Blanc, one of the premier producers in Bordeaux, and still consults for the winery today. Cheval Blanc uses a high percentage of Cabernet Franc in its wines, and Dr. van Leeuwen has worked with the variety a great deal during his career.
During his presentation, Dr. van Leeuwen talked about where Cabernet Franc fits in Bordeaux production compared to Cabernet Sauvignon and Merlot, and summarized some of the research that has been done in the region on how to improve fruit quality, touching on topics like clonal selection, phenology, fruit quality (e.g., methoxypyrazine levels), and the influence of soil characteristics, including water holding capacity, texture and nutrient availability.
Dr. Kees van Leeuwen - Cabernet Franc in Bordeaux (pdf; 1613KB)
Dr. van Leeuwen's talk presented to the Finger Lakes industry on October 21, 2014
Upcoming Events
Impact of Fruit Zone Sunlight Exposure on Fruit Composition of Cold Climate Hybrid Grapes WEBINAR
January 17, 2019
1 pm
Dr. Atucha's research program focuses on fruit crop physiology and production of deciduous fruit crops (cranberries and cold climate grapes). The goal of her extension program is to deliver up to date, research-based information to fruit growers that will lead to improve production practices of fruit crops in Wisconsin.

Announcements
B.E.V. NY Exhibitor Registration
B.E.V. NY is New York's annual conference for the grape and wine industry, combining the resources of Cornell's Extension Enology Lab, the Finger Lakes Grape Program, and the Charles H. Dyson School of Applied Economics and Management. More than 400 people attend B.E.V. NY each year to hear the latest information about marketing, winemaking and grape growing from academic and industry experts. If you want to reach the growers, winemakers and business leaders in the dynamic and expanding grape and wine industry of the Finger Lakes and New York, there is no better place to be than at B.E.V. NY!
Exhibitors can register for the Trade Show during one, two, or all three days of the conference. This gives you the opportunity to target the kind of attendees that you would like to reach during the event. Want to talk to tasting room or marketing staff about your company's new service? Wednesday's business-focused program is where you'll want to be. Are you primarily interested in talking to winemakers? Then be sure to be there during Thursday's enology program. Friday is all about vineyards so if you want to talk to grape growers, that's the day for you. Or get even wider exposure and register for two or three days!
Registration can be found
here
.
Find out about B.E.V. NY Sponsorship opportunities
here
Finger Lakes Grape Program - Cornell Cooperative Extension
Your Trusted Source for Research-Based Knowledge