Dr. Kees van Leeuwen, University of Bordeaux
Hans Walter-Peterson, Team Leader, Viticulture Extension Specialist
Finger Lakes Grape Program
December 10, 2014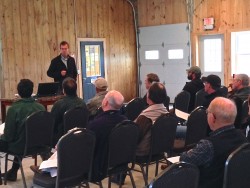 On October 21, 2014, Dr. Kees van Leeuwen, professor of viticulture at the University of Bordeaux, gave a presentation to Finger Lakes growers and winemakers at Three Brothers Winery. Before Dr. van Leeuwen joined the faculty at the University of Bordeaux, he was the vineyard manager for Cheateau Cheval Blanc, one of the premier producers in Bordeaux, and still consults for the winery today. Cheval Blanc uses a high percentage of Cabernet Franc in its wines, and Dr. van Leeuwen has worked with the variety a great deal during his career.
During his presentation, Dr. van Leeuwen talked about where Cabernet Franc fits in Bordeaux production compared to Cabernet Sauvignon and Merlot, and summarized some of the research that has been done in the region on how to improve fruit quality, touching on topics like clonal selection, phenology, fruit quality (e.g., methoxypyrazine levels), and the influence of soil characteristics, including water holding capacity, texture and nutrient availability.
Dr. Kees van Leeuwen - Cabernet Franc in Bordeaux (pdf; 1613KB)
Dr. van Leeuwen's talk presented to the Finger Lakes industry on October 21, 2014
Upcoming Events
No upcoming events at this time.
Announcements
No Announcements at this time