2-years Pre-plant · Review Soil Maps
Like gardening in your backyard, soil composition and structure are important in wine grape production. Luckily, soil maps are easy to access, whether through the USDA Web Soil Survey, or books from your local extension office. (See following 3 images below).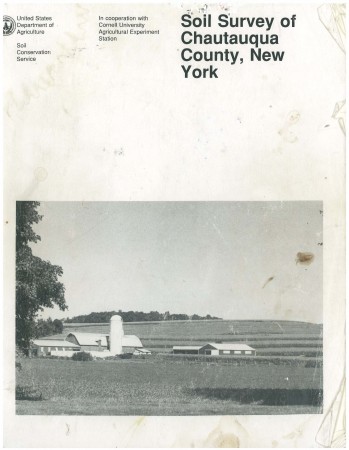 figure 1: soil survey
Gravelly, well-drained soil is ideal in grape production, because grapevine roots do not want to be submerged in water. On the flip side, too-well-drained soil can create an issue with nutrition, as in, the soil organic matter might be too low to sustain wine grape production.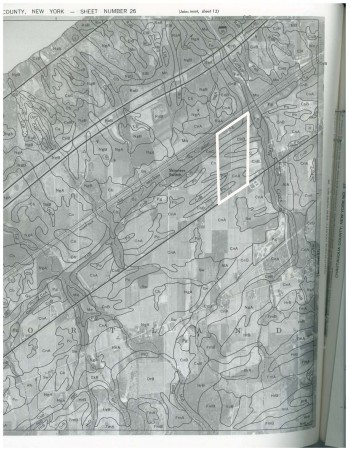 figure 2: A soil map of the Cornell Lake Erie Research and Extension Laboratory (CLEREL) in Portland, NY from the Soil Survey of Chautauqua County, New York compiled by the USDA and the Soil Conservation Service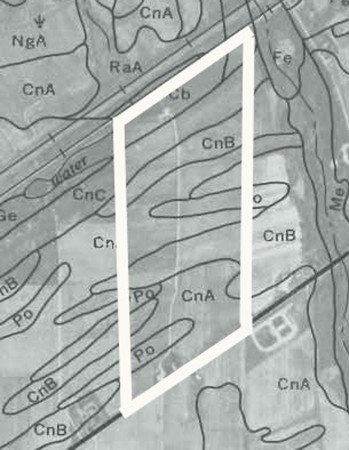 figure 3: A close-up of the CLEREL site shows the different soil types.
The soil is mostly well-drained Chenengo (CnA/CnB).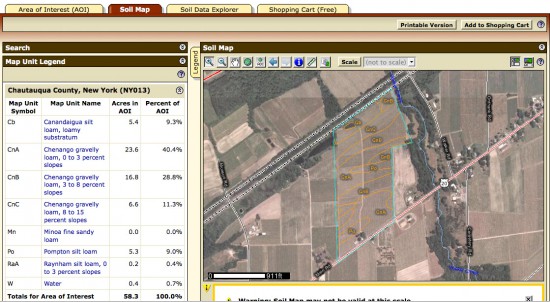 A CLEREL soil map from the USDA Web Soil Survey site
Soil maps can also provide and excellent base for your vineyard maps. If there are two different soil types at your site, consider planting one block of vines to each soil type, IF this is also practical. Nutrient management will be much easier once you are aware of possible drainage or nutrient differences. Finally, when you submit soil samples, you will need to enter the soil type on the form for the soil tests and for more appropriate recommendations.
---
Content by:
Dr. Jodi Creasap Gee
Viticulture Extension Educator
Lake Erie Regional Grape Program
Upcoming Events
Impact of Fruit Zone Sunlight Exposure on Fruit Composition of Cold Climate Hybrid Grapes WEBINAR
January 17, 2019
1 pm
Dr. Atucha's research program focuses on fruit crop physiology and production of deciduous fruit crops (cranberries and cold climate grapes). The goal of her extension program is to deliver up to date, research-based information to fruit growers that will lead to improve production practices of fruit crops in Wisconsin.

Announcements
B.E.V. NY Exhibitor Registration
B.E.V. NY is New York's annual conference for the grape and wine industry, combining the resources of Cornell's Extension Enology Lab, the Finger Lakes Grape Program, and the Charles H. Dyson School of Applied Economics and Management. More than 400 people attend B.E.V. NY each year to hear the latest information about marketing, winemaking and grape growing from academic and industry experts. If you want to reach the growers, winemakers and business leaders in the dynamic and expanding grape and wine industry of the Finger Lakes and New York, there is no better place to be than at B.E.V. NY!
Exhibitors can register for the Trade Show during one, two, or all three days of the conference. This gives you the opportunity to target the kind of attendees that you would like to reach during the event. Want to talk to tasting room or marketing staff about your company's new service? Wednesday's business-focused program is where you'll want to be. Are you primarily interested in talking to winemakers? Then be sure to be there during Thursday's enology program. Friday is all about vineyards so if you want to talk to grape growers, that's the day for you. Or get even wider exposure and register for two or three days!
Registration can be found
here
.
Find out about B.E.V. NY Sponsorship opportunities
here
Finger Lakes Grape Program - Cornell Cooperative Extension
Your Trusted Source for Research-Based Knowledge