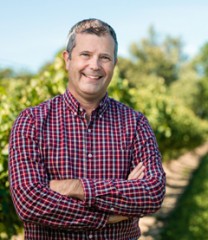 Hans Walter-Peterson
Team Leader, Viticulture Extension Specialist
CCE Yates County
417 Liberty Street
Suite 1024
Penn Yan, NY 14527
phone 315-536-5134
cell 315-521-8789
fax 315-536-5117
email Hans
Areas of Interest
Vineyard nutrition, canopy management, soils, vineyard mechanization, grower & winery relations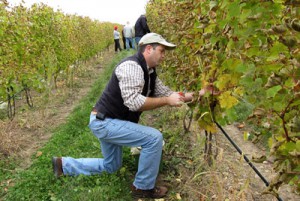 My program focuses on providing information to growers on viticultural practices such as vineyard site selection and establishment, selection of grape varieties, rootstocks, and training systems, canopy and crop load management, soils, vineyard nutrition and water management, and improving vineyard management efficiency. I am also working with Cornell's extension enologists to help grape growers and winemakers better understand each others' issues in order to improve working relations between the two groups.
Upcoming Events
Tailgate Meeting
July 5, 2016
4:30 pm - 6:00 pm
Williamson, NY
Our sixth tailgate meeting of 2016 will take place on July 5 at Young Sommer Winery in Williamson.
Tailgate Meeting
July 19, 2016
4:30 pm - 6:00 pm
Penn Yan, NY
Our seventh tailgate meeting of 2016 will take place on July 19 at Keuka Lake Vineyards in Penn Yan.
Tailgate Meeting
August 2, 2016
4:30 pm - 6:00 pm
Hammondsport, NY
Our eighth tailgate meeting of 2016 will take place on August 2 at Doyle Vineyard Management's farm in Hammondsport.
Announcements
Corrigan Herbert Joins FLGP for the Summer
Corrigan Herbert, the 2016 Nelson J. Shaulis Summer Scholar, will be working with the Finger Lakes Grape Program team this summer. As this year's recipient of the Nelson J. Shaulis Scholarship, Corrigan will be spending the growing season managing a small research project of her own, as well as working alongside our Cornell Cooperative Extension team and many of the viticulture researchers at the Agricultural Experiment Station in Geneva. Corrigan just completed her first year in the Viticulture and Wine Technology program at Finger Lakes Community College. You'll very likely see her out in area vineyards with us working on field trials, during farm visits, or joining in on the conversations at Tailgate Meetings over the next couple of months.




Finger Lakes Grape Program - Cornell Cooperative Extension
Your Trusted Source for Research-Based Knowledge