Business Management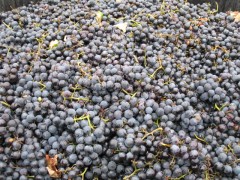 While many might think that growing grapes and running a winery sounds like a perfect way to live, the fact is that these are businesses that require good information to make decisions about production practices, labor, marketing, and more. The Finger Lakes Grape Program works with experts from Cornell, Penn State, and the private and non-profit sectors to bring this kind of information to growers.
BUSINESS MANAGEMENT CATEGORIES
Most Recent Business Management Fall Content
2018 Finger Lakes Grape Price Listing
Last Modified: September 6, 2018
Finger Lakes Grape Prices- 2017
Brittany Griffin, Administrative Assistant
Finger Lakes Grape Program
Last Modified: September 7, 2017
Changes to Agricultural Worker Protection Standard
Last Modified: January 9, 2017
Announcements
Save the Date - B.E.V. NY 2019
2019 B.E.V. NY Conference and Trade Show
Wednesday, February 27 - Friday, March 1, 2019
RIT Inn & Conference Center
Henrietta, NY
Registration and Trade Show information coming soon!
Finger Lakes Grape Program - Cornell Cooperative Extension
Your Trusted Source for Research-Based Knowledge