Business Management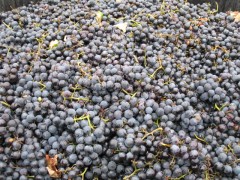 While many might think that growing grapes and running a winery sounds like a perfect way to live, the fact is that these are businesses that require good information to make decisions about production practices, labor, marketing, and more. The Finger Lakes Grape Program works with experts from Cornell, Penn State, and the private and non-profit sectors to bring this kind of information to growers.
Most Recent Business Management Fall Content
2021 Finger Lakes Grape Price List
Last Modified: September 3, 2021
2020 Finger Lakes Grape Price List
Brittany Griffin, Administrative Assistant
Finger Lakes Grape Program
Last Modified: September 8, 2020
Important! State Guidance for Farms to Prevent/Respond to COVID-19
Last Modified: May 29, 2020
Upcoming Events
2022 CCE Ontario Pesticide Training and Recertification Series

February 2 - February 23, 2022
7:00-9:00PM
Canandaigua, NY
Fundamentals of Integrated Pest Management: Field and Forage Focus- 2 core DEC credits

February 3, 2022
10 am - 12 pm
Penn Yan, NY
Biology and Management of Aphids- 1.5 DEC credits (categories 10, 1a, 21, 22, 23 and 25)

February 16, 2022
1:00-2:30PM
Penn Yan, NY
Announcements
B.E.V. NY 2022 Registration is Open!
B.E.V. NY 2022 - March 29-31, 2022

Time to put this year's B.E.V. NY conference on your calendar and get signed up to attend! This year's conference will be held as a fully virtual event again, as we did in 2021. And just like last year, your $100 registration fee allows you to "attend" as much or as little of the conference as you want. The "all you can eat buffet" for business, enology and viticulture information, you might say.

Building Better Spray Programs
Find information here:
https://flgp.cce.cornell.edu/event.php?id=530