B.E.V. NY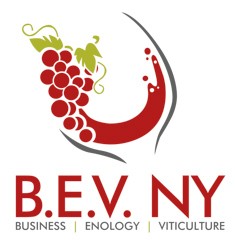 B.E.V. NY - New York's premier grape & wine education event of the year
B.E.V. NY is the annual grape and wine conference presented by Cornell's Finger Lakes Grape Program and the Enology Extension Laboratory. The conference consists of three days of programming, each one focused on a different aspect of the industry: Business. Enology. Viticulture. B.E.V. NY. The conference invites academic and industry experts to present information that addresses important issues for the industry, and to do so in a way that provides practical information to those who attend, and which can help

In addition to the conference, we host a trade show where exhibitors can talk directly with owners, sales and marketing staff, winemakers and grape growers, about their latest products and services. More than 400 people attend B.E.V. NY each year, so if you want to reach the growers, winemakers and business leaders in the dynamic and expanding grape and wine industry of the Finger Lakes and New York, there is no better place to be than at B.E.V. NY! Information about the trade show and various conference sponsorships is available below.
Be sure to visit the B.E.V. NY website for information about the conference program, trade show, and registration information.

Most Recent B.E.V. NY Fall Content
B.E.V. NY 2020 Exhibitor Information Now Available
Last Modified: November 20, 2019
Register now to be an exhibitor at the B.E.V. NY 2020 Trade Show!
B.E.V. NY 2020 Sponsorship Opportunities
Brittany Griffin, Administrative Assistant
Finger Lakes Grape Program
Last Modified: November 18, 2019
Don't miss out on the chance to make your organization stand out from the crowd at B.E.V. NY. Sign up for one of our sponsorship opportunities!
Upcoming Events
Management of Botrytis and Sour Rot in Vineyards
August 11, 2020
4:30 - 5:30 PM
Hear the latest information about management of cluster rots, including Botrytis and sour rot, from researchers who are working on better ways to manage this bane of growers in humid climates.
FLGP Virtual Tailgate Meeting

August 18, 2020
4:30 - 6:00 PM
Join FLGP viticulturist Hans Walter-Peterson (and the occasional guest speaker) for any or all of this year's Tailgate Meetings, held every other Tuesday afternoon during the 2020 growing season, starting on June 9 and ending on August 18.
Announcements
EnoCert 101: Intro to Viticulture & Enology
(Formerly new grower/new winery workshop)

NEW Online format!
August 18-19, 2020 Register Here!
This course will feature synchronous sessions from 9:00 am - 12:00 pm on August 18 and August 19. There will also be pre-recorded lectures that can be viewed on your own time.
Overview: This course will cover the basics of grape growing from the ground up. Through live interactive lectures, participants will understand how vineyard site, climate, and trellising systems impact grape production and quality. Participants will also expand their understanding of production steps for specific wine types. Upon completing this course, attendees will learn how different wine types (white, red, ros?, sparkling) are produced, and the key decisions that need to be made to influence wine style.