B.E.V. NY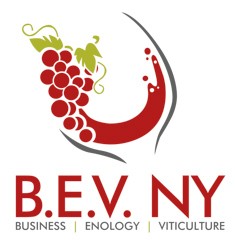 B.E.V. NY 2018 Marks the Fifth Year of Cornellís Masterclass for the New York Wine Industry

B.E.V. NY [Business. Enology. Viticulture.], Cornell Extensionís annual symposium for the grape and wine industry, will be held February 28-March 2 at the R.I.T. Conference Center in Henrietta. Now in its fifth year, B.E.V. NY provides regional industry members with cutting-edge research updates from experts in viticulture, enology, and the business of wine.

In 2018, all three days of B.E.V. NY will include sessions focused on the production and sales of sparkling wines, kicking off with a discussion of marketing and pertinent federal standards and regulations on Business day (Tuesday). Dr. Belinda Kemp, Senior Oenologist at Brock University, will share her experience in sparkling wine production in the UK and Canada with a world vs. NY technical session and tasting on Enology day (Thursday) and a discussion of grape growing for sparkling wine making on Viticulture day (Friday.)

Business day will also include social media marketing tips and a panel presentation by New York wineries who have recently re-designed their labels. On Enology Day, Extension Specialist Chris Gerling and microbiologist Dr. Randy Worobo will bring winemakers up to date on the new winery reporting and sanitation requirements for the Food Safety and Modernization Act. Viticulture day will also feature Dr. Imed Dami, professor of viticulture from Ohio State University, who will present his work on abscisic acid (ABA) applications and their effect on winter hardiness and fruit quality in eastern vineyards. A trade show of regional vendors will be held all three days, and featured students will once again introduce program speakers.



Registration and additional information is available at http://www.bevny.org/.
Most Recent B.E.V. NY Fall Content
B.E.V. NY Exhibitor Package 2018
Brittany Griffin, Administrative Assistant
Finger Lakes Grape Program
Last Modified: December 1, 2017

It's time to make your plans to be a part of B.E.V. NY 2018!
Upcoming Events
2018 Pesticide Training and Re-certification Series

February 5 - March 5, 2018
7:00 pm-9:00 pm (Exam 6:30 pm- 11:00 pm)
Canandaugia, NY
Anyone interested in obtaining a pesticide certification and meets the DEC (Department of Environmental Conservation) experience / education requirements OR current applicators seeking pesticide recertification credits should attend. 2.5 recertification core credits will be available for each class.
Announcements
Position Opening with Finger Lakes Grape Program
The FLGP is going to be hiring a new program assistant/technician in 2018. Gillian Trimber, our viticulture educator who has been with the Grape Program since September 2015, has decided to pursue some other opportunities, and will be leaving us at the end of December.
The new position will have a greater emphasis on assisting with field work than in the past, including setting up and maintaining field trials and demonstrations, data collection and data entry, and maintenance of the Teaching and Demonstration Vineyard. More information about the qualifications and duties of the position, along with information on how to apply, can be found at
http://tiny.cc/ViticultureAideWDR0013103.
The position will be posted until December 17, or until the position is filled. Please pass this information along to anybody that you think might be interested in the position.
Gillian will be helping us to finish up some final projects - including hosting a pruning workshop on Friday, December 8 (see Upcoming Events for more details) - and helping us to prepare for the transition to the new position. Her enthusiasm for Extension and the industry, her upbeat attitude, and her hard work have made her a tremendous asset for the Finger Lakes Grape Program over the past 2 years. I will miss having her as part of our team.
SAVE THE DATE!!
2018 B.E.V. NY Conference and Trade Show
Wednesday, February 28 - Friday, March 2, 2018
RIT Inn & Conference Center
Henrietta, NY
Registration is now open for the 2018 Trade Show here:
https://reg.cce.cornell.edu/tradeshow_10504
Finger Lakes Grape Program - Cornell Cooperative Extension
Your Trusted Source for Research-Based Knowledge