B.E.V. NY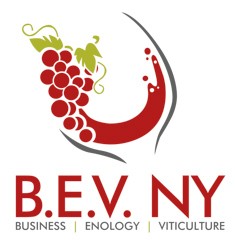 Business. Enology. Viticulture. B.E.V. NY.
Cornell's annual conference for New York's grape and wine industry, combining the resources of Cornell's Extension Enology Lab, the Finger Lakes Grape Program, and the Charles H. Dyson School of Applied Economics and Management.
The Northeast's leading researchers in viticulture, enology, and the business of grapes and wine will teach at B.E.V. NY 2017, held Wednesday, March 1 - Friday, March 3 at the R.I.T. Conference Center in Henrietta. Each day of the program focuses on one aspect of industry operations, allowing registrants to pick the sessions most relevant to their work. In 2015, more than 500 attendees from New York and surrounding wine regions attended seminars, browsed the trade show, and earned pesticide recertification credits while networking with colleagues.
True to its cooperative extension roots, B.E.V. NY differs from other grape and wine events in its focus on continuing education. Presentations are designed to give an introduction or review of familiar material, then move on to recent research and practical applications - providing attendees and speakers an opportunity for interactive dialogue rather than narrowly-focused research results. By all accounts, the new structure is a success.
"I thought the format for B.E.V. NY was excellent," said Bruce Murray, co-owner of Boundary Breaks Vineyard in Lodi. "The separation of the tracks into Business, Enology and Viticulture makes so much sense. I got to hear most of the program content, and there were many, many very good sessions."
"The great thing about B.E.V. NY is that our format suits people in all sectors of the industry and at all experience levels," says Chris Gerling, enology extension associate. "Regardless of what part of the business you're in or how long you've been doing it, everyone should find something new and relevant."
For Associate Professor of Viticulture Justine Vanden Heuvel, B.E.V. NY represents a way to focus her work to better serve the NY grape and wine industry.
"Through most of the year I work closely with grape growers, but my research extends to the wine and business aspects of production as well. B.E.V. NY is a fantastic opportunity for me to connect and share my work with all segments of the wine industry."
Jim Trezise, President of the NYWGF, encourages everyone in the industry to attend.
"Cornell's B.E.V. NY conference is an absolute must for any grower or winery in New York or the northeast who wants to get the latest and most valuable information about business, enology, and viticulture," he said. "The Cornell researchers are world-renowned, and Cornell Cooperative Extension does a fabulous job disseminating the information to the people who need it to enhance their businesses."
For daily program agendas, registration, and other information, visit www.bevny.org.
No Writings Offered at this Time
Upcoming Events
Tailgate Meeting

July 5, 2017
4:30 pm - 6:00 pm
Hector, NY
Our fifth tailgate meeting of 2017 will take place on July 5 at Atwater Estate Vineyard in Hector NY. 
Public Hearing Regarding Creation of a NY Grape Research Order
July 12, 2017
10:00 am - 12:00 pm
Geneva, NY
The Department of Ag & Markets will be holding a public hearing to receive input on the need for a Grape Research order in New York. Growers are encouraged to attend and to provide their input on this important issue.
Tailgate Meeting

July 18, 2017
4:30 pm - 6:00 pm
Hammondsport, NY
Our sixth tailgate meeting of 2017 will take place on July 18 at Keuka Lake Vineyards in Penn Yan.
Announcements
Tailgate Meetings Around the Finger Lakes
The weather is warming up, and that means the start of another growing season in Finger Lakes vineyards. It also means the start of the Finger Lakes Grape Program's annual series of Tailgate Meetings, which are held every other week during the growing season. These meetings are a great opportunity to talk with FLGP staff and other growers about what's going on in the vineyards, and exchange ideas about how to make improvements on the farm.
Want to learn more about our Tailgate Meetings? Check out the video below, or better yet, come to a meeting this year. No cost, no registration necessary. Dates and locations are listed on our
Calendar of Events
.
Finger Lakes Grape Program - Cornell Cooperative Extension
Your Trusted Source for Research-Based Knowledge