IPM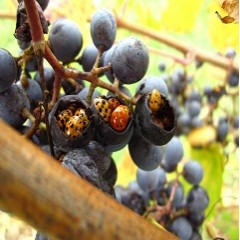 Grape growers benefit from implementing IPM - environmentally and economically sensible ways to protect crops from insects, plant diseases, weeds, and vertebrate pests. We work with grape processors, growers, local extension educators, faculty, crop consultants, and agricultural businesses to find IPM answers, develop new IPM methods, and deliver IPM information.
NYS IPM Program Mission: The New York State Integrated Pest Management Program develops sustainable ways to manage pests and helps people to use methods that minimize environmental, health and economic risks.
Most Recent IPM Fall Content
FIFRA 2(ee) Recommendations Available for Grape Rootworm Insecticides in NY
Tim Weigle, Team Leader, Statewide Grape IPM Specialist
Lake Erie Regional Grape Program
Last Modified: January 29, 2015

In conjunction with Greg Loeb, Professor, Department of Entomology, NYSAES, two replicated spray trials using 4 insecticides currently registered for use on grapes in New York State (Admire Pro, Danitol 2.4 EC, Leverage 360 and Sniper) were conducted by NYS IPM Program and LERGP staff in grower vineyards in the Lake Erie region.

Using NEWA Resources in a Vineyard IPM Strategy
Tim Weigle, Team Leader, Statewide Grape IPM Specialist
Lake Erie Regional Grape Program
Last Modified: March 7, 2013


Historically, control practices for vineyard pests in the eastern United States were made based on the calendar or on a growth stage such as bud break, bloom or verasion using materials with a broad spectrum of activity. This was a fairly straightforward approach to pest management, and for many years this type of spray program was very effective. However, as the nation became more conscious of pesticide use, the Food Quality Protection Act (FQPA) was introduced, and broad spectrum pesticides were either restricted in their usage, grapes were removed from the label, or were banned completely. In the recent past, we have seen more choices in fungicides and insecticides come on the market, but the trend is now toward less toxic and narrower spectrum pesticides.
Upcoming Events
Impact of Fruit Zone Sunlight Exposure on Fruit Composition of Cold Climate Hybrid Grapes WEBINAR
January 17, 2019
1 pm
Dr. Atucha's research program focuses on fruit crop physiology and production of deciduous fruit crops (cranberries and cold climate grapes). The goal of her extension program is to deliver up to date, research-based information to fruit growers that will lead to improve production practices of fruit crops in Wisconsin.

Announcements
B.E.V. NY Exhibitor Registration
B.E.V. NY is New York's annual conference for the grape and wine industry, combining the resources of Cornell's Extension Enology Lab, the Finger Lakes Grape Program, and the Charles H. Dyson School of Applied Economics and Management. More than 400 people attend B.E.V. NY each year to hear the latest information about marketing, winemaking and grape growing from academic and industry experts. If you want to reach the growers, winemakers and business leaders in the dynamic and expanding grape and wine industry of the Finger Lakes and New York, there is no better place to be than at B.E.V. NY!
Exhibitors can register for the Trade Show during one, two, or all three days of the conference. This gives you the opportunity to target the kind of attendees that you would like to reach during the event. Want to talk to tasting room or marketing staff about your company's new service? Wednesday's business-focused program is where you'll want to be. Are you primarily interested in talking to winemakers? Then be sure to be there during Thursday's enology program. Friday is all about vineyards so if you want to talk to grape growers, that's the day for you. Or get even wider exposure and register for two or three days!
Registration can be found
here
.
Find out about B.E.V. NY Sponsorship opportunities
here
Finger Lakes Grape Program - Cornell Cooperative Extension
Your Trusted Source for Research-Based Knowledge