IPM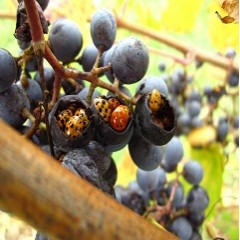 Grape growers benefit from implementing IPM - environmentally and economically sensible ways to protect crops from insects, plant diseases, weeds, and vertebrate pests. We work with grape processors, growers, local extension educators, faculty, crop consultants, and agricultural businesses to find IPM answers, develop new IPM methods, and deliver IPM information.
NYS IPM Program Mission: The New York State Integrated Pest Management Program develops sustainable ways to manage pests and helps people to use methods that minimize environmental, health and economic risks.
Relevant Event
Tailgate Meeting

May 28, 2019
4:30 pm - 6:00 pm
Canandaigua, NY
Most Recent IPM Fall Content
FIFRA 2(ee) Recommendations Available for Grape Rootworm Insecticides in NY
Tim Weigle, Team Leader, Statewide Grape IPM Specialist
Lake Erie Regional Grape Program
Last Modified: January 29, 2015

In conjunction with Greg Loeb, Professor, Department of Entomology, NYSAES, two replicated spray trials using 4 insecticides currently registered for use on grapes in New York State (Admire Pro, Danitol 2.4 EC, Leverage 360 and Sniper) were conducted by NYS IPM Program and LERGP staff in grower vineyards in the Lake Erie region.

Using NEWA Resources in a Vineyard IPM Strategy
Tim Weigle, Team Leader, Statewide Grape IPM Specialist
Lake Erie Regional Grape Program
Last Modified: March 7, 2013


Historically, control practices for vineyard pests in the eastern United States were made based on the calendar or on a growth stage such as bud break, bloom or verasion using materials with a broad spectrum of activity. This was a fairly straightforward approach to pest management, and for many years this type of spray program was very effective. However, as the nation became more conscious of pesticide use, the Food Quality Protection Act (FQPA) was introduced, and broad spectrum pesticides were either restricted in their usage, grapes were removed from the label, or were banned completely. In the recent past, we have seen more choices in fungicides and insecticides come on the market, but the trend is now toward less toxic and narrower spectrum pesticides.
Upcoming Events
Variable Rate Shoot Thinning Demonstration
May 24, 2019
12:00 PM
Branchport, NY
Terry Bates, director of the multi-state Efficient Vineyard project, will be in Branchport this Friday, May 24, to demonstrate a variable rate shoot thinning system that uses NDVI sensor data to change the rate of shoot thinning on the fly. This work is being done in preparation for the Shaulis Symposium Field Tour this summer, which will feature several new and emerging vineyard technologies during the tour.
Tailgate Meeting

May 28, 2019
4:30 pm - 6:00 pm
Canandaigua, NY
Our second tailgate meeting of 2019 will take place on May 28 at James Hicks Vineyard in Naples.
Announcements
Katie Gold Named New Grape Pathologist
Katie Gold has been named as the new assistant professor of Grape Disease Ecology and Epidemiology at Cornell AgriTech in Geneva. Katie is currently completing her Ph.D. at the University of Wisconsin - Madison. Upon completion of her Ph.D., she will conduct postdoctoral research at the NASA Jet Propulsion Lab (JPL) in California from August 2019 through January 2020. While at JPL, Katie will gain experience with the latest hardware and software for remote imaging with future application to digital agriculture and grape production. She will begin her tenure-track assistant professor position on February 1, 2020 with responsibilities that are 60% research and 40% extension.
Her research and extension seminars were on the topics of "Hyperspectral systems for pre-symptomatic potato disease detection" and "Agricultural sensors in Grape IPM", highlighting some of the tools and approaches that she will bring to the position. Katie is already setting up collaborations for her grape work in New York and plans to attend the American Society for Enology and Viticulture - Eastern Section Meeting in Geneva this July.