IPM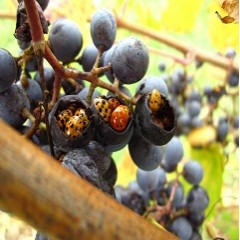 Grape growers benefit from implementing IPM - environmentally and economically sensible ways to protect crops from insects, plant diseases, weeds, and vertebrate pests. We work with grape processors, growers, local extension educators, faculty, crop consultants, and agricultural businesses to find IPM answers, develop new IPM methods, and deliver IPM information.
NYS IPM Program Mission: The New York State Integrated Pest Management Program develops sustainable ways to manage pests and helps people to use methods that minimize environmental, health and economic risks.
Relevant Event
2022 CCE Ontario Pesticide Training and Recertification Series

February 2 - February 23, 2022
7:00-9:00PM
Canandaigua, NY
Most Recent IPM Fall Content
Spotted Lanternfly Found in Ithaca
Hans Walter-Peterson, Team Leader, Viticulture Extension Specialist
Finger Lakes Grape Program
Last Modified: November 17, 2020

Spotted lanternly (SLF) adults and egg masses were found in Ithaca recently. While a few lone adults have been found in the area before, this is the first confirmed case of egg masses being found in the Finger Lakes. The proximity of this population to the region's vineyards makes this find even more concerning. While SLF is not active during the dormant season, there are some things growers can do this winter (2020-21) in response to this find. Read the article and attached .pdf for more information.

Managing Sour Rot in 2019: Fruit Fly Management Program
Last Modified: September 20, 2019
Managing fruit fly populations has been shown to be a critical component of sour rot control in grapes. This article discusses the importance of resistance management when developing an IPM strategy for fruit fly control, and reviews the materials approved for use in grapes for fruit fly control.

FIFRA 2(ee) Recommendations Available for Grape Rootworm Insecticides in NY
Tim Weigle, Team Leader, Statewide Grape IPM Specialist
Lake Erie Regional Grape Program
Last Modified: January 29, 2015

In conjunction with Greg Loeb, Professor, Department of Entomology, NYSAES, two replicated spray trials using 4 insecticides currently registered for use on grapes in New York State (Admire Pro, Danitol 2.4 EC, Leverage 360 and Sniper) were conducted by NYS IPM Program and LERGP staff in grower vineyards in the Lake Erie region.

Upcoming Events
2022 CCE Ontario Pesticide Training and Recertification Series

February 2 - February 23, 2022
7:00-9:00PM
Canandaigua, NY
Fundamentals of Integrated Pest Management: Field and Forage Focus- 2 core DEC credits

February 3, 2022
10 am - 12 pm
Penn Yan, NY
Biology and Management of Aphids- 1.5 DEC credits (categories 10, 1a, 21, 22, 23 and 25)

February 16, 2022
1:00-2:30PM
Penn Yan, NY
Announcements
B.E.V. NY 2022 Registration is Open!
B.E.V. NY 2022 - March 29-31, 2022

Time to put this year's B.E.V. NY conference on your calendar and get signed up to attend! This year's conference will be held as a fully virtual event again, as we did in 2021. And just like last year, your $100 registration fee allows you to "attend" as much or as little of the conference as you want. The "all you can eat buffet" for business, enology and viticulture information, you might say.

Building Better Spray Programs
Find information here:
https://flgp.cce.cornell.edu/event.php?id=530