Vine Nutrition & Soils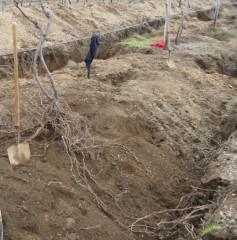 The soils in a vineyard provide two of the critical needs of all plants - water and mineral nutrients. Without proper soil management, grapevines are unable to adequately supply themselves with these critical elements for growth and development, which can compromise the quality of the fruit and the long-term sustainability of the vineyard. By understanding what the soil is capable of providing, and the vines' ability to tap into those resources, growers can make decisions about the need to supply nutrients and water to the vines.
VINE NUTRITION & SOILS CATEGORIES
Most Recent Vine Nutrition and Soils Fall Content
Factors That Affect Fruit Set
Hans Walter-Peterson, Team Leader, Viticulture Extension Specialist
Finger Lakes Grape Program
Last Modified: June 15, 2016


One of the components that influences yields in grapevines is the number of berries that set and mature on each cluster, or "fruit set". Each flower cluster contains many individual flowers, each of which has the potential to become a grape. However, not every flower will successfully pollinate or develop a healthy embryo and the surrounding tissue that becomes the fruit that we want.

This article covers some of the factors that influence fruit set in grapes and summarizes practices that growers could use to influence set. It was originally published in the June 2013 issue of the Finger Lakes Vineyard Notes.

Dr. Kees van Leeuwen, University of Bordeaux
Hans Walter-Peterson, Team Leader, Viticulture Extension Specialist
Finger Lakes Grape Program
Last Modified: December 10, 2014

Dr. Kees van Leeuwen is a professor of viticulture at the University of Bordeaux. His work focuses on the effects of environment on terroir. He is also the viticulture consultant for Chateau Cheval Blanc in St. Emilion, one of the premier producers in Bordeaux, which uses a high percentage of Cabernet Franc in its wines.
Dr. van Leeuwen visited the Finger Lakes in late October, 2014 and presented a seminar to the region's industry about the role of Cabernet Franc in Bordeaux production, and some of the results of research that he and others have done on the variety over the past several years. Dr. van Leeuwin was kind enough to give his permission for us to share the slides from his presentation to the industry.
Slides from Presentation by Dr. Benjamin Bois, University of Burgundy
Last Modified: September 17, 2014

Dr. Benjamin Bois, an associate professor in viticulture and climatology from the University of Burgundy, speak to Finger Lakes growers and winemakers about Pinot noir production in Burgundy and how it is influenced by climatic and site conditions.
Upcoming Events
Impact of Fruit Zone Sunlight Exposure on Fruit Composition of Cold Climate Hybrid Grapes WEBINAR
January 17, 2019
1 pm
Dr. Atucha's research program focuses on fruit crop physiology and production of deciduous fruit crops (cranberries and cold climate grapes). The goal of her extension program is to deliver up to date, research-based information to fruit growers that will lead to improve production practices of fruit crops in Wisconsin.

Announcements
B.E.V. NY Exhibitor Registration
B.E.V. NY is New York's annual conference for the grape and wine industry, combining the resources of Cornell's Extension Enology Lab, the Finger Lakes Grape Program, and the Charles H. Dyson School of Applied Economics and Management. More than 400 people attend B.E.V. NY each year to hear the latest information about marketing, winemaking and grape growing from academic and industry experts. If you want to reach the growers, winemakers and business leaders in the dynamic and expanding grape and wine industry of the Finger Lakes and New York, there is no better place to be than at B.E.V. NY!
Exhibitors can register for the Trade Show during one, two, or all three days of the conference. This gives you the opportunity to target the kind of attendees that you would like to reach during the event. Want to talk to tasting room or marketing staff about your company's new service? Wednesday's business-focused program is where you'll want to be. Are you primarily interested in talking to winemakers? Then be sure to be there during Thursday's enology program. Friday is all about vineyards so if you want to talk to grape growers, that's the day for you. Or get even wider exposure and register for two or three days!
Registration can be found
here
.
Find out about B.E.V. NY Sponsorship opportunities
here
Finger Lakes Grape Program - Cornell Cooperative Extension
Your Trusted Source for Research-Based Knowledge