Event Details
Date
August 14 - August 15, 2017
Time
8:30am-4:30pm
Location
Finger Lakes Community College Viticulture and Wine Center
Geneva, NY 14456
Host
EnoCert 101: Basic Viticulture & Enology
August 14 - August 15, 2017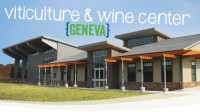 Who should take these classes:
• Winery employees who came to wine from another industry
• Those who may be looking to enter the wine industry
• Anyone with significant interest in wine production or sensory analysis
• Tasting room employees
Registration Deadline: Monday, August 7
Upcoming Events
Enocert 202: Tasting Room Sales Strategies
August 18, 2017
8:30am-4:30pm
Geneva, NY
Finger Lakes Grape Program Field Meeting
August 24, 2017
4:30pm-6:00pm
Penn Yan, NY
Over the past several years, we have had a few different talks by members of the Lake Erie Regional Grape Program at our B.E.V. NY conference about their work using NDVI images and other technology to understand vineyard variability, and then using that information to improve management practices, including the incorporation of various mechanization tools.
Tailgate Meeting

August 29, 2017
4:30 pm - 6:00 pm
Lodi, NY
Our ninth and final tailgate meeting of 2017 will take place on August 29 at Lamoreaux Landing/Wagner Farms in Lodi, NY .
Announcements
No Announcements at this time
Finger Lakes Grape Program - Cornell Cooperative Extension
Your Trusted Source for Research-Based Knowledge