Event Details
Date
February 27 - March 1, 2019
Time
8:30 am - 4:30 pm
Location
RIT Inn & Conference Center
5257 West Henrietta Road
Henrietta, NY 14467
Host
Finger Lakes Grape Program
Pre-Registration Deadline: February 22, 2019
B.E.V. NY 2019
February 27 - March 1, 2019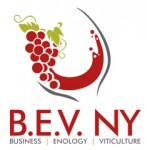 B.E.V. NY Supports Innovative Growth for NY Wine Industry
Winemakers and grape growers can look forward to new ways to innovate in the vineyard and cellar at this year's B.E.V. NY [Business. Enology. Viticulture.] on February 27 - March 1 at the Rochester Institute of Technology (RIT) Conference Center in Henrietta.
B.E.V. NY is an annual event hosted by Cornell enology, viticulture and business experts with the mission of providing the NY wine industry with cutting edge research updates. The theme of this year's event is "Innovation" with a focus on using alternative methods for the production and sales of wines and grapes.
The event will kick off with Business Day, highlighting compliance issues, tools and best practices for winery websites. Sam Filler, the Director of the New York Wine and Grape Foundation will also speak about the Foundation's strategic direction for 2019. Other highlights of the business program include discussions on Consumer Preferences Regarding Canned Wines led by Robert Williams of Susquehanna University, Expert Response to Non-Traditional Grapes in France by Florine Livat-Pecheux of the KEDGE Business School and the Importance of Great Wine Label Design by the A1 Resource Label Group.
On Enology Day, aromatic wine producers can learn about new yeast nutrient management from Paul Brock of Finger Lakes Community College's Viticulture and Wine Center. Patrick Gibney of Cornell University's Department of Food Science will also help winemakers better understand viability measurements in wine microbes. Like Business Day, canned wines will be a major highlight. Gavin Sacks, of Cornell's Department of Food Science will discuss the chemistry of wines in alternative packaging, which will be followed by panels and tastings of both NY and international canned wines. A session on FSMA training led by Randy Worobo and Chris Gerling of Cornell will top off enology day.
Friday's Viticulture Program will showcase sessions on alternative vineyard practices such as sheep for weed control led by Justine Vanden Heuvel, of Cornell's School of Integrative Plant Sciences (SIPS). Vanden Heuvel will also talk about the destination of photosynthates in grapevines at different stations of development. Other sessions led by Cornell experts include how vineyard practices influence fruit and quality characteristics, carryover effects of a defoliation study on Riesling, a history of the formation of Finger Lakes soils, climate change impacts on New York agriculture and a variety of pest management topics.
In addition to the educational program, B.E.V. NY also hosts a trade show during the conference, where industry members can learn about some of the latest products and services available to help them improve their products and their business.

Registration, sponsorship and trade show information is available at http://www.bevny.org/.
FOR MORE INFORMATION: Contact Gemma Osborne, event coordinator, at gro2@cornell.edu or (315) 787-2248