Event Details
Date
May 23, 2017
Time
4:30 pm - 6:00 pm
Location
Vine Country Farms
8907 Stone Road
Prattsburgh, NY 14874
Cost
FLGP Enrollee - Free

$15.00 Non-FLGP Enrollee
(additional attendee $15.00 ea.)

At the Door
$25.00

Host
Finger Lakes Grape Program
Pre-Registration Deadline: May 20, 2017

EVENT HAS PASSED
Finger Lakes Spring Grape IPM Meeting
May 23, 2017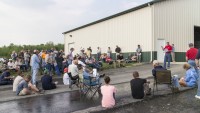 This year's Finger Lakes Spring Grape IPM Meeting will be hosted by Roy & Gordon Taft at Vine Country Farms on Tuesday, May 23. The meeting will provide quick but thorough updates on important pest management issues including new materials, new sprayer technology and application techniques, important updates on regulations and research projects and more. You can see the agenda by clicking the link below.
Dinner and pesticide re-certification credits will be available. Be sure to bring your own chair if you want to sit during the meeting. There is no cost to those enrolled with the FLGP for 2017. The fee is $15 per person for those not enrolled with the Grape Program. Please register online by clicking the link in the upper right or by calling or emailing Brittany Griffin at (315) 536-5134 or bg393@cornell.edu.
2017 Spring Grape IPM Meeting Agenda (PDF; 161KB)
Upcoming Events
Tailgate Meeting

May 29, 2018
4:30 pm - 6:00 pm
Naples, NY
Our second tailgate meeting of 2018 will take place on May 29 at Randall Standish Vineyards in Naples.
Tailgate Meeting

June 12, 2018
4:30 pm - 6:00 pm
Dundee, NY
Our third tailgate meeting of 2018 will take place on June 12th at Harry Humphreys Farm in Dundee.
Announcements
No Announcements at this time
Finger Lakes Grape Program - Cornell Cooperative Extension
Your Trusted Source for Research-Based Knowledge